LinkedIn is the preferred platform where recruiters prefer to search for the right candidates. That's why any professional, whether recently graduated or having several years of experience looking to progress in their chosen field, has a LinkedIn profile. When you want to get ahead of others, you should include applicable skills in your LinkedIn profile. Thus, your profile can get highlighted and draw the interest of recruiters. When looking for the right candidates, LinkedIn profile skills have become one of the most important points that any recruiter would pay attention to.  Since recruiters will have limited time and use a LinkedIn outreach Automation Platform such as LeadConnect to find the most suitable candidates.
There is a wide range of skills that are in demand, like Sales, Marketing, Social media marketing, Finance, Programming, Blockchain, Problem-solving skills, Time Management skills, Business development skills, Analytical skills, Leadership, Management, Strategy, Communication, and Flexibility. The different skills for which anyone can take an assessment can be classified under categories like Technical skills, Business skills, and Design skills. There is the option to add up to 50 skills. However, it is always recommended to add as many relevant skills as possible that will make the profile stand out. But the problem that can arise is that anybody can add the desired skills. For this purpose, assessments can be a useful way to find out who has the skills they claim to have.
LinkedIn skill assessments are short online quizzes that allow professionals to showcase their skills and knowledge in various areas. Taking LinkedIn skill assessments can benefit professionals in several ways. It helps to provide validation in specific areas, making their profile more trustworthy and credible. Additionally, having skill assessments completed on their profile can grab the attention of recruiters who are looking for candidates with certain skill sets. LinkedIn skill assessments provide professionals with a way to stand out from the competition. When recruiters search for candidates based on specific skills, those who have passed skill assessments in those areas are more likely to appear higher in the search results. Taking these assessments is simple. Professionals can look them up on their LinkedIn profile's "Skills & Endorsements" section. They can earn a skill badge on their profile after passing an assessment that implies their expertise in that skill.
While the assessments are beneficial, it's essential to approach them strategically. It's recommended to take assessments in skills that are directly related to one's desired industry or field of work. By doing so, professionals can align their profile with their career goals and increase their chances of attracting the right opportunities. LinkedIn skill assessments can be a valuable tool for professionals looking to excel in their chosen field. By completing assessments in relevant skills, they can enhance their profile's credibility, catch the attention of recruiters, and stand out among other candidates.
What are LinkedIn skill assessments?
LinkedIn assessments provide candidates with a way to showcase their level of knowledge in a certain skill. The assessment consists of 15 multiple-choice questions and you have 1.5 minutes to answer each one of them. They will obtain the skill badge If the applicant gets placed in the top 30% of exam takers. It can be featured in the skills to your LinkedIn profile if you decide to add it after passing the quiz. They may attempt it once again if they are unsuccessful the first time. They will get one more chance to attempt the exam within 6 months. They also have the option to use the LinkedIn learning resources to learn and prepare to take the assessment again.
These assessments were launched by LinkedIn in 2019. It allows applicants to demonstrate their abilities to prospective employers. The assessment consists of 15 questions, each of which tests at least one sub-skill or topic with a time constraint for each question. This format ensures that candidates demonstrate quick thinking and proficiency in their chosen skills. Scoring well on the assessment can earn the candidate a skill badge, which can be displayed on their LinkedIn profile's skill section. It serves as a visual representation of the candidate's expertise in that skill. When a candidate doesn't clear it on their first attempt, they can retake the exam once again. If they aren't able to pass, they can choose to take it one more time within 6 months. This way assessments can help you identify areas for improvement.
By clicking on the "Practice" option just before doing the skill assessment, the test taker may attempt 2 questions without having them considered as part of the final result. This gives you an idea regarding the types of questions that may be asked and helps in to be prepared accordingly. You can practice a couple of questions that will enable you to understand the format and structure of the test. This can reduce test anxiety and improve confidence for the actual skill assessment. Practicing also allows the test taker to gauge their current level of understanding and identify any areas of weakness that they may need to focus on before taking the skill quiz. This way, they can allocate their study time more effectively and target specific areas for improvement.
Furthermore, practicing a few questions can serve as a warm-up activity and help the test taker get into the right mindset before tackling the actual skill quiz. It can help them calm any nerves and mentally prepare for the task at hand. Taking advantage of the practice questions before taking the actual quiz can provide the test taker with valuable insights, help them become more comfortable with the test format, and enable them to better prepare for successful performance on the actual quiz.
LinkedIn also offers learning resources to help candidates prepare for the assessment. By utilizing these resources, candidates can enhance their knowledge and improve their chances of clearing the assessment. Overall, skill assessment provides candidates with a valuable opportunity to showcase their skills and knowledge to potential employers and professional connections.
How to take LinkedIn assessments
Click on the "Me" dropdown menu on the upper right-hand side of the window as seen below.

Then you click on the "View Profile" button in the dropdown menu to open your profile. Scroll down to the "Skills" section. Here you click on the " Take skill quiz" button. You can click on the "+" sign beside that button to make any changes to your skills.

Click on " Show more assessments" at the bottom of the page to find the assessment tests most relevant to your field.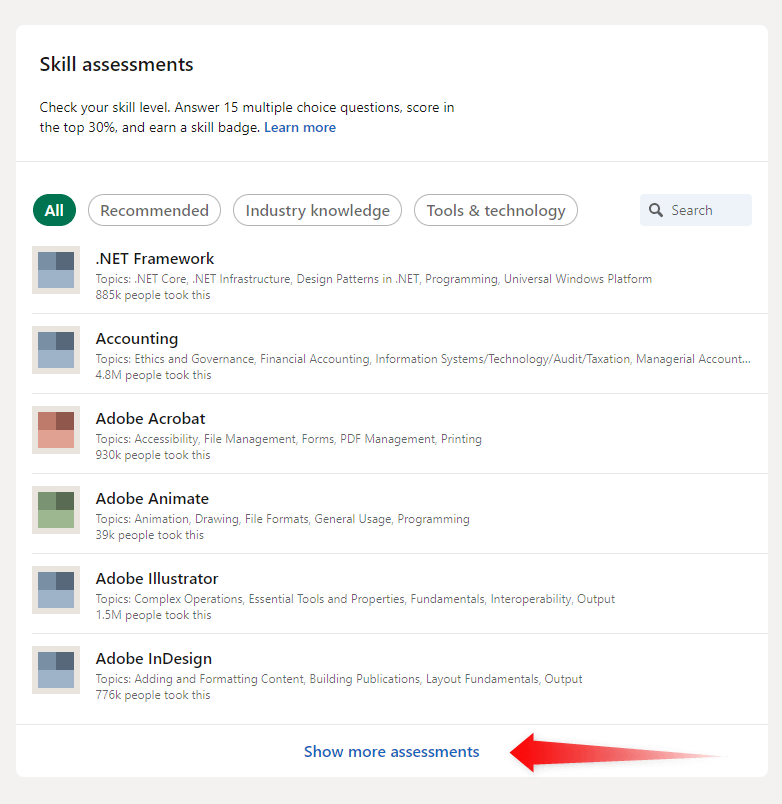 Click on the assessment you want to attempt. Then the following window will open:
You may also view the topics that will be covered in the exam here. To attempt two questions without impacting your final score, click the "Practice" option.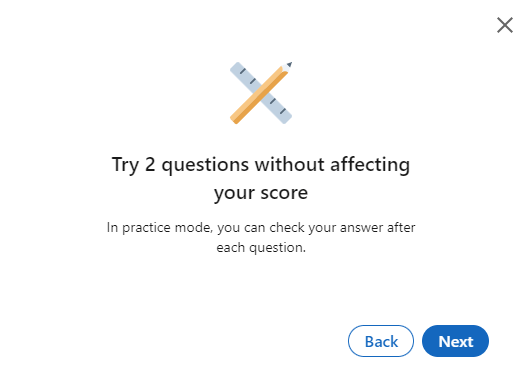 Click the "Next" button and attempt the 2 practice questions,  After you have finished with the practice, you can either take the test now or later. Once you have started to attempt the exam, you should finish it to be able to get your results. Otherwise, you get the following prompt when you attempt to leave without finishing the quiz.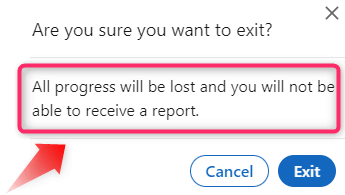 You will immediately get to know if you have cleared it or not after you have answered all the multiple-choice questions. However, you will not receive a score. If you were successful, the following window appears.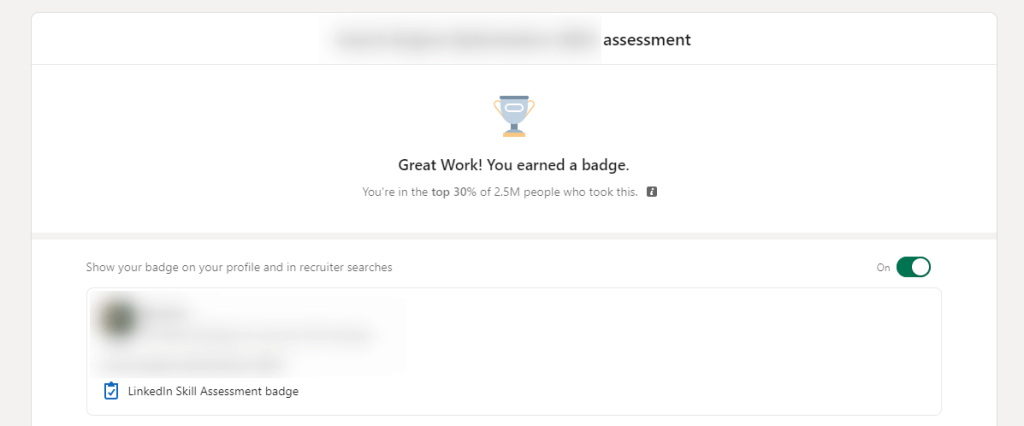 Also, you will be able to see the badge on your profile as well

In case you didn't clear, the following screen appears.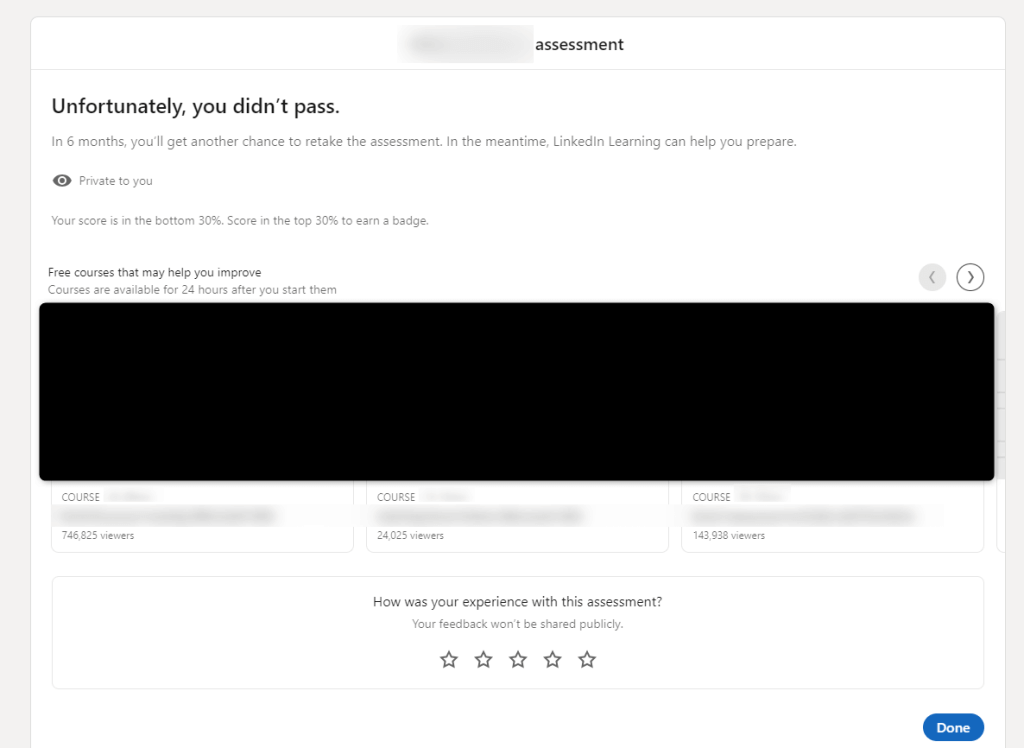 When you are unable to pass, LinkedIn provides free courses to help you gain the knowledge you require to clear it. These are available for 24 hours after starting them. You could make use of
Do LinkedIn skill assessments help candidates appear in recruiter searches?
Skill assessments can help you get highlighted among hiring managers. If you have completed a certain skill assessment or qualification, it can help to highlight your profile to recruiters and you can have better access to better job opportunities. As a candidate, this might provide you an edge because it indicates your ability and expertise in a certain field.
Hiring managers frequently take advantage of badges to quickly recognize individuals who have the necessary skills and credentials for specific job openings. You have to differentiate yourself from other applicants and improve the possibility that recruiters will consider your resume and give you a chance by interviewing you for that position.
Skill assessments test and evaluate your knowledge of a particular topic or subject. You get to earn badges which are proof of your expertise that you receive on completing LinkedIn skill assessments. They add credibility to your profile and can serve as a trusted validation of your skills to hiring managers. Having a badge on your profile and showcasing your skill assessments can enhance your visibility and credibility, allowing you to open up to better job prospects and increase your chances of being selected for interviews.
LinkedIn Learning
If you are not able to complete the assessment and earn the LinkedIn skill badges, you have the option to make use of LinkedIn Learning to complete the relevant online courses and gain the required knowledge. There are over 21,400 courses and Learning Paths that are developed by experts and leaders, and more are added every week. You can take in-demand courses in the fields of business, technology, and creative skills. Log in to LinkedIn and go to the URL: https://www.linkedin.com/learning/ and make the most of the available courses.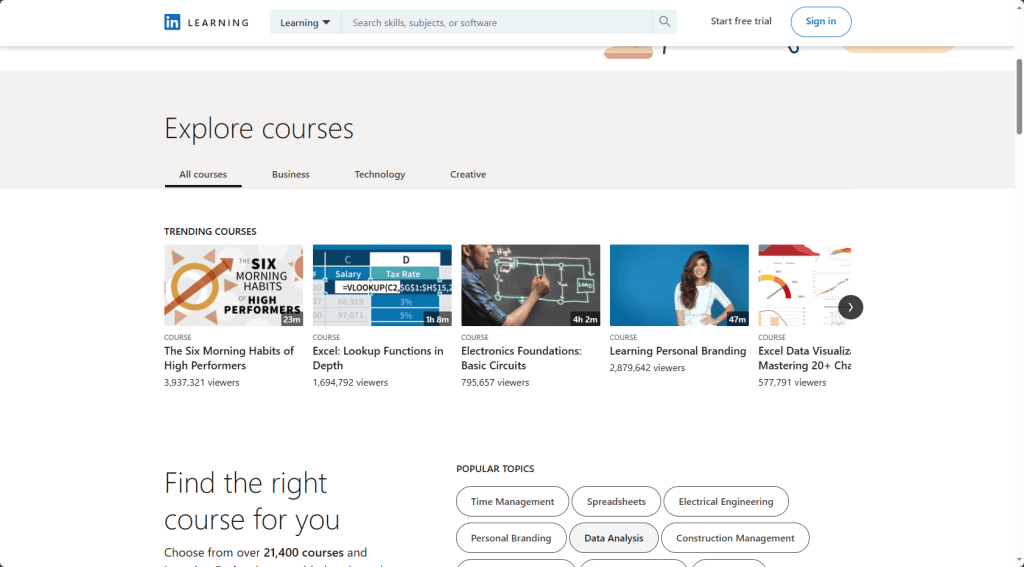 LinkedIn Learning provides access to online courses prepared by subject matter experts that enable the participant to learn important skills. Now you can easily excel professionally by taking these courses that include topics like coding, marketing, graphic design, leadership, and project management among others. By utilizing this opportunity, you may have access to the knowledge required to pass the assessment. Thus you can earn the credentials and abilities to improve your LinkedIn profile. You get to earn a completion badge after the course is finished. You get to learn in a flexible learning environment that lets users explore the topics at their speed and on their own time. LinkedIn has also developed Learning Paths, a set of courses that provide learners access to several aspects of a particular skill or topic.
Conclusion
LinkedIn skill assessment can be a great way for candidates to highlight their profile. You must continually learn new things and develop your abilities, though. You may do that by using the free resources on the Internet or the courses offered on LinkedIn. It is important to note that these are not compulsory but be of great help in making your profile visible to recruiters. By taking the LinkedIn skill assessments, candidates can demonstrate their proficiency in specific skills and increase their credibility to potential employers. These assessments validate your skills and can enhance your profile by displaying a verified badge for each skill you have passed the assessment for. As such, the management will no longer manually look for the best candidates because they can leave such tasks to LinkedIn outreach Automation Platforms like LeadConnect. Your profile must have the relevant keywords that the potential employers want to look for in their employees
Therefore, you must put in the effort to improve your skill set. You may take a variety of courses on LinkedIn to improve your talents further. Industry professionals have helped create these courses covering some of the most in-demand skills. You can stay updated regarding the latest advancements and trends in your industry. Use the internet's free resources to progress in your learning process. Join several online groups, blogs, forums, and websites so that you can learn from the informative talks, tutorials, and resources available on these topics. Enhance the knowledge and understanding of your skills using these resources.
While these courses and resources are not mandatory, leveraging them can greatly benefit you. They demonstrate your commitment to continuous learning and professional growth, making you a more attractive candidate to recruiters. Investing time and effort into further developing your skills shows that you are proactive and dedicated to improving yourself. LinkedIn skill assessments are an excellent way to highlight your skills to companies. However, it is essential to continue learning and improving through LinkedIn courses and free internet resources. These resources are not compulsory but can greatly enhance your profile and make you more visible to recruiters.