Email Marketing is the preferred method to communicate with your prospects and convert them into paying clients. You need to develop convincing and effective content to do so effectively. While most sales and marketing teams understand the importance of the subject line and the body of their emails, the Call-to-Action or CTA is also quite significant. It encourages the recipient to take the next step and move ahead in the sales funnel. After reading the email message, your prospect must be interested in engaging with you further. That is where CTA Email plays its part by nudging them in the direction you want them to go. But what can it be about?
The Call to action email could be anything such as scheduling a call or meeting with your sales rep, signing up on the website, taking a free trial, subscribing to your newsletter, joining a waitlist for a to-be-launched product, providing feedback, visiting the nearest store, or buying a product. The effectiveness of your email campaigns can be truly measured by the number of recipients completing the action you have mentioned. Read on to find out the email call to action best practices that encourage your prospects to move faster than they would without the CTA Email content.
What Is a CTA in Email Marketing?
Simply put, CTA refers to the hyperlink or button mentioned in the email encouraging the recipient to perform a specific action, which can be counted as a conversion of a potential prospect into a paying client. It urges them to keep interacting with your business and boosts the likelihood of developing a long-term relationship. If you are looking to grow your business through Email Marketing, you need to grow your emailing list. For that, you can make use of the vast professional network on LinkedIn. It enables you to reach out to a targeted audience that fulfills the criteria most suitable for your business. When you are looking to implement your Lead Generation, Lead Nurturing, and Relationship Building strategies, you can use a Linkedin Outreach Automation Platform to automate the whole process.
LeadConnect is one such alternative to help you succeed in your LinkedIn Outreach strategy. Though such automation tools reduce the monotonous and boring aspects, Email Marketing can't be successful if you don't have compelling CTAs. Otherwise, all your efforts will not produce the expected results. When you can grab the attention of the readers and push them to perform the particular action you want them to, your Call to action email strategy can be said to have been successful.
You can expect to see the expected results only if each part of the email does what it is intended for. The Subject Line of your email will determine if the recipient will open the email or not. Once they do open the email,  the content of the body needs to provide the required information in a precise manner. While you can add more than 1 CTA, it is ideal that you have a single, clear, and straightforward manner. Though you can use multiple CTAs, you should be careful to not confuse your recipient or dilute the main purpose of your email. Though you feel including more might lead to more engagement, it could lead to discouraging them from doing so. In this case, less is more. Don't keep adding CTAs just for the sake of it as that could defeat the purpose behind your Email marketing campaigns.
The Importance of Email Call-To-Action
When you include CTA Email, you are providing clarity to your recipient of what they can expect.  The primary purpose of including it is to help you convert your prospects into paying clients by encouraging them to move ahead in their buyer journey. When you have created the email call to action phrases properly, it should help your prospects in completing the required actions and provide a good customer experience.
The Call-to-activity (CTA) in an email is an essential component that directs your readers to complete certain tasks, such as purchasing your product/ service, signing up for a newsletter, downloading your marketing catalog, newsletter or , or visiting your website. The success of your email campaigns is significantly impacted by CTAs for these reasons.
Building Brand Engagement

CTAs can also be customized to fit the look and feel of your brand. Design and messaging consistency improves brand identification and might help you develop a closer relationship with your target audience.

Channeling the Attention of Your Target Audience

A well-designed and properly positioned CTA draws attention and directs the recipients to concentrate on the most crucial action you want them to take. If your email is missing a clear CTA, it might be missing direction and purpose. That will likely make your readers rapidly lose interest.

Building Urgency

Using action-oriented phrases and fostering a feeling of urgency, CTAs could motivate recipients to act promptly out of fear of missing out on an amazing offer. Mentioning that your offer is for a limited time only urges them to act as soon as possible to make the most of it.

Driving Conversions

The primary goal of most email campaigns is to boost conversions through actions like making a purchase, completing a form, or signing up for an event. A compelling CTA makes it more likely that readers will take the required action, which eventually results in an increase in conversions and the accomplishment of your campaign's goals.

Measuring Campaign Effectiveness Metrics

CTAs offer an actual number for determining the effectiveness of your email marketing efforts. You may determine how well your email content, design, and message engage recipients and encourage them to engage with your material by monitoring click-through rates (CTR) on CTAs.

A/B Testing and Optimization

CTAs offer numerous opportunities for optimization through A/B testing multiple versions. You could discover what content most connects with your audience and tailor your email messages appropriately by experimenting with different text, colors, locations, and designs.

Optimizing User Experience

By directing users through their intended path, a well-designed CTA could boost the user experience as a whole. It makes it obvious to recipients exactly what action they need to take next and eliminates any ambiguity or doubt, simplifying the decision-making procedure for them.

Segmentation and Personalization

You can develop targeted campaigns for particular audiences by modifying CTAs to fit the needs of different categories of viewers. The engagement and response rates of personalized CTAs can get substantially better when they are in line with the preferences, habits, and requirements of the receivers.

Directing Your Customer's Journey

Your CTA may direct recipients toward the proper next action depending on the goal of your campaign and where they are in the customer journey. This could involve telling them about the products you sell, intriguing them to browse your website, or encouraging them to make a purchase.
Therefore, the call-to-action is an indispensable part of email marketing which functions as a link between your email content and the desired receiver action. A successful CTA can potentially have an important influence on the outcomes of your campaign by boosting conversions, improving user experience, and giving useful insights for continuing improvement.
How Does Email CTA Work?
In response to the email content, an Email Call-to-Action (CTA) encourages the recipient of the email to perform a particular activity. It works as a simple yet clear instruction that determines the receiver's next action. The following is how an email CTA works:
Design and Positioning

The CTA often appears as a standout button or link inside the email. It is distinguished from the other portions of the content by its design, color, and typically bigger size. It's thoughtfully placed within the email, such as towards the top, in the center, or at the end, where readers are the most likely to see it.

Responsive Design

Most recipients view their emails on various gadgets, such as desktops, laptops, mobiles, or tablets. So, the CTA needs to be developed with responsive features so that it is visible, clickable, and visually attractive across different screen sizes.

Encourage Action

The language used in the CTA must convince your recipient to perform some activity. To encourage precise behaviors, some common verbs frequently used include Learn More, Buy Now, Download, and Subscribe.

Follow-up

Once the receiver accomplished the necessary action, you may set up automated follow-up emails or tasks. If customers make purchases, for instance, they could get a confirmation email or several onboarding emails.

Link to the Relevant Landing Page

When users click the CTA, they are taken to a landing page that supports the desired action and offers further details. This landing page should focus on easily leading the recipient to complete the required action and should include messaging consistent with the email.

Tracking and Analytics

Email marketing systems frequently provide tracking solutions that enable you to analyze the effectiveness of your CTAs. You can gather data such as click-through rate (CTR) to find out the number of recipients who clicked on the CTA, which will assist you in measuring the effectiveness of your email campaign.

Persuasive Content

The description on the CTA button or link must be persuasive. It should be action-oriented, short, and easily communicate the importance of the action. The language used must effectively fulfill your recipient's demands, concerns, or aspirations while also creating a sense of need or enthusiasm.

Personalization

You can customize CTAs to be relevant to several target groups based on your data and segmentation. This boosts the suitability of the CTA and increases the probability of users interacting with it.

Visual Style

The CTA button should have a distinctive appearance that is nevertheless consistent with the overall email style and company branding. Bold fonts, contrasting colors, and appropriate space all work to make the CTA stand out.

 A/B Testing

You may use A/B testing to optimize CTAs for maximum engagement by developing versions of the CTA by making changes to the content, colors, and location before distributing them across multiple audience groups. Find out which version works better by examining the outcomes.
An email CTA links the content of your email to the desirable behavior that you desire the receiver to do. CTAs may dramatically affect the success of your email campaigns by increasing engagement, conversions, and desired results by employing smart design, content, and strategy.
What Are Some Email Call to Action Best Practices?
After understanding the benefits, you would want to write the best cta for emails. But are you wondering how to go about it? Here are a few tips you must consider to create persuasive email call to action phrases:
Use Active Voice

When you communicate with your prospects, you should not use a passive tone. If you use active voice, you tend to use action words. This implies you interact with your audience directly. They will be more inclined to agree to your request. It makes your content easy to read and provides clarity.

Be to the Point and Direct

You may lose the interest of your prospect if they can't get to the action required without being overwhelmed by information overload. When you are asking them to perform a certain action, you must provide details such as what they must do and how will they benefit. However, you must avoid unnecessarily writing long sentences and paragraphs.

Show Them What They Gain.

You should concentrate on the advantage your recipients will get from doing it. Since you are reaching out to them, you have to make it about them.

Make It Urgent

Your CTA should make people want to complete the desired action. Highlight the sense of urgency if your offer is for a limited period only or if there are only a few pieces left. Most people don't like to miss out and you can use that to encourage them to act quickly.
A good example of CTA ensures that your recipient understands what actions you want them to accomplish and what they will gain. At the same time, it should provide them the assurance that they don't have to face any risk.
Where to Put Your Call-To-Action Button?
The positioning of your email's Call-to-Action (CTA) button has significance for boosting participation and conversion rates. Depending on the content, goal, and style of your email, several places could be suitable, but the following are some good options to think about:
Above the Fold

The email segment accessible without scrolling is referred to as being "above the fold." Your CTA button will be one of the first things recipients will notice if you place it towards the top of the email. This is a popular approach for effortlessly capturing interest, particularly for time-sensitive choices or significant events.

In the Middle

If your email is lengthy, placing the CTA button in the center of the message might be helpful. When you're giving information or explaining an incident leading up to the CTA, this placement works nicely. Before persuading them to participate, it leads recipients through the information.

At the End

A traditional tactic is to insert the CTA button at the end of the email. It is commonly used when the objective of the email is to enlighten or offer useful details before providing the action. This approach is appropriate for emails where recipients must know the context before responding.

Sticky or Floating 

As readers navigate through the email, a floating CTA button continues to be visible. The CTA is constantly visible because it is often placed on the top or bottom of the screen. This strategy works well to keep the CTA noticeable without appearing intrusive.

Sidebar or Panel

Adding the CTA to a sidebar or panel in your email design may be effective. This is especially helpful if it refers to any extra content or deals associated with the primary content.

Text Links Within Content

A call to action (CTA) does not always have to be a separate button. To encourage readers to take action, you may also utilize text links within the email's body. These links may be included in the text without any obtrusion and give the email an informal feel.

Image-Based CTAs

If your email consists of images, you may place a CTA button over the top of the image. This may work well for attracting curiosity and producing a pleasing layout. Make sure that even if the image doesn't load, the CTA is still clickable.

Personalized Positioning

Take into account your audience's reading habits and choices while personalizing how you position yourself. For instance, if you are aware that your readers read emails predominantly on mobile devices, it is crucial to position the CTA prominently within the mobile view.
Remember that the positioning of the CTA should match the flow of your email's content and be consistent with your overall email design. It's also a good idea to incorporate visual clues like arrows or highlighting to direct the recipient's attention to the CTA. You can do A/B testing of alternative positions to help figure out which position connects best with your particular audience and goals.
5 Examples of Killer Email Calls to Action
Clear and Direct CTA:
You need to come straight to the point and provide your customer with a clear and direct CTA. In this email sent by Canva, the CTA encourages the customer to keep creating more impressive designs.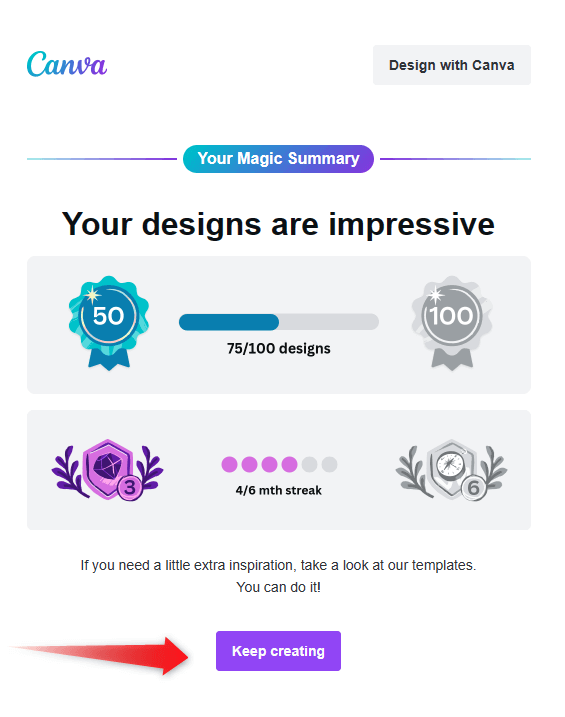 Your CTA can put the focus on different activities as shown in these examples:
Buy CTA

Urge your customers to buy by providing a link to your product page. E.g.: Buy Now!

Ebook CTA

Get your customers to download your e-book by describing the action required and the benefits they will receive. Eg: Download our Ebook now.

Newsletter CTA

Ask your customers to subscribe to your company newsletter where they can get the latest information about your company. Eg: Subscribe to our Newsletter

Appointment CTA

Get your customer to schedule an appointment or consultation with the experts in your team. Eg: Schedule your Appointment

Video CTA

Provide the link to watch a video to learn more about something and help your customers understand it better. For Eg: Watch this tutorial video.
Abandoned cart CTA
For e-commerce websites, cart abandonment is a major issue. When any customer adds items to their online shopping cart but doesn't finish purchasing them, it becomes an Abandoned cart. It indicates potentially lost sales and hence most e-commerce marketers send their customers emails to encourage them to complete the transactions. Here is an example of one such email.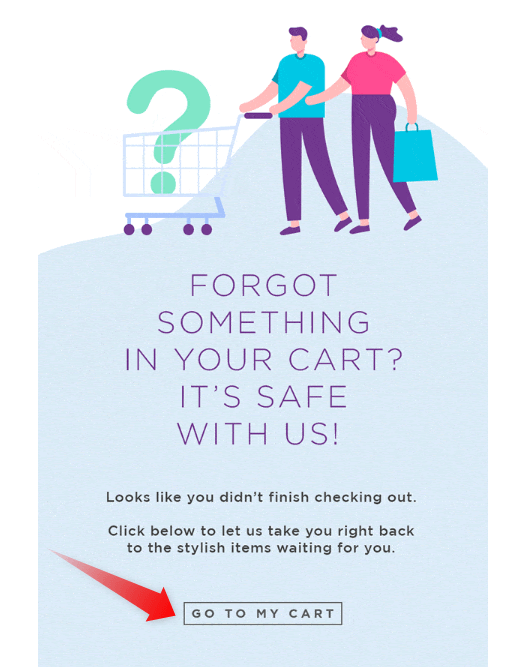 The e-tailer here informs the customer that they can simply click on the "Go to My Cart" button and directly find all their forgotten items in their abandoned cart. This CTA is direct and simple by asking the customer to go to their cart and finish shopping.
Some common examples of Abandoned cart CTAs:
Reminder CTA

Send a reminder that they have items left in their cart and encourage them to complete their purchase. Eg: You have some items left in your cart!  Complete your purchase now.

Discount CTA

Urge your customers to complete their transactions by offering a discount. It can either be a certain percentage(Get 10% off), the shipping costs (Free Shipping), or a fixed amount (Flat $100 off).

Urgency CTA

Remind your customer that the items in their abandoned cart will be gone after a certain time. Hence they must urgently finish their transaction to buy those products. E.g.: Hurry! Your items will disappear from your cart in 24 hours.

Limited Stock CTA

Create a sense of scarcity to encourage your customers to finish their purchase because only some items are left and they may miss out on the deal if they delay. E.g.: Limited Edition!

Gift/ Bonus CTA

Make the deal sweeter by offering your customers a deal or gifts once they complete buying the items in their abandoned cart. E.g.: Unlock your FREE Gift!
Limited-Time Offer CTA:
You might want to let your recipients know when you make a limited-time deal so they can take benefit of it and purchase the product or service you are offering.
You may set a time restriction on an offer or deal if you want to make sure that your recipients can buy your products or services as soon as possible. Let's take a look at some of the methods you might use to make your point in your marketing emails.
Last Chance CTA

When your sale is about to end, you can create the required urgency to encourage them to go and check it out and purchase something. E.g.: Last Chance: Offer Ends Today.

Save CTA

Encourage your customers to visit your website or app and purchase as there is a chance to save for a limited time only. E.g.: Save X%: Only Y Days Left!

Exclusive Offer CTA

Mention the exclusive offer is for a limited time only to get them to check it out. Wg: Access your Exclusive benefits: Valid for X Hours Only.

Flash Sale CTA

Let your target audience know that you are having a flash sale, which is by nature for a limited time only. Eg: Flash Sale: Enjoy 50 % off for this weekend only.

Limited Stock CTA

Inform your customers that they can avail of the offer only till the stocks last, which automatically creates a sense of it being a limited-time offer. E.g.: Buy 1 Get 1 Offer: While our stocks last.
Collect customer feedback CTA
It is usually a good idea to send a message asking for feedback after a consumer uses any product or service. It is beneficial to understand what works and what does not.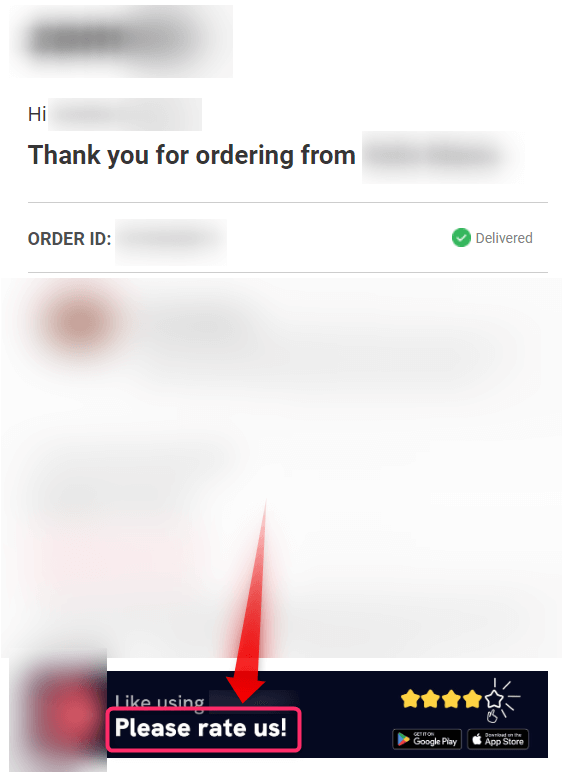 Some common ways to ask for customer feedback in your Email CTA:
Direct Feedback Request CTA

Directly ask your customer to provide feedback. Eg: Please review us.

Emotion-based feedback CTA

Create an emotional connection while asking for feedback. E.g.: We love to see your smiles again! Please provide your feedback.

Rewards-based feedback CTA

When your customer provides feedback, they also get an additional benefit. Wg: Share your feedback and get a chance to win exciting prizes.

Feedback for Improvement CTA

Ask your customer to provide feedback to help improve your products and services. E.g.: Help us to serve you better. Please provide feedback.

Survey feedback CTA

Create a survey and ask your customers to fill it up to provide feedback. Eg: Please fill out this survey form to provide feedback.
Download app CTA
Most people spend a lot of time on their smartphones throughout the day. So encourage your users to down your application. This email from LinkedIn has several CTAs and mentions the Download app CTA at the bottom. Since the customer could have either an Android or Apple phone, it is necessary to provide both options to have an impact on your app downloads.
You can put this CTA message in the following ways:
Avail Exclusive Benefits

Provide your app users with exclusive benefits as an encouragement for them to download the app. Eg: Download the app to enjoy exclusive benefits!

Provide Updates and Offers

Post updates regularly and provide exclusive offers to your app users which can prove to be an incentive to download the app. E.g.: Want the latest offers? Download the app

Access at any time and anywhere

Emphasize the benefit app users get from being able to access your products and services from anywhere and at any time. Eg: Download the app and enjoy unlimited access.

Join the Community

Your customers can benefit from joining the community of your users by downloading the app on their phones. Eg: Download the app and become a part of our community.

Enjoy a better user experience

App users get to have an enhanced experience when they can access your app. Eg: Enjoy a better experience by downloading the app.
Conclusion
If done correctly, your CTA will get the recipients of your marketing emails to perform the activities you want them to do. However, the success of your campaign will depend on several factors such as your subject line, email content, and images or videos you include. But you will need to regularly keep working on your content and do A/B testing to understand what is working and change what isn't.
Leveraging the reach of the LinkedIn community to boost your Email Marketing campaigns by using a LinkedIn Outreach Automation Platform can make a huge difference. For that purpose, you can implement LeadConnect to make the whole process efficient and ensure that your email campaigns can achieve their objective.