Real estate email marketing automation allows you to take advantage of your business's most critical and lucrative asset – your email list.
Emails are an important part of marketing that directly reminds your audience about your existence. And since these are highly customizable, the ball really is in your court. You can send all business-related communication directly to your customers.
Automating your real estate email marketing strategy gives you the power to take your marketing to the next notch! You can send a sequence of newsletters to let your audience know what properties are up for sale in their neighborhood and even include an actionable button to contact you and increase your business.
This email automation guide will help you get started with automating real estate email marketing!
Why Leverage Email Automation in Real Estate?
Identify and Segment Leads

You should automate your real estate email marketing strategy because it'll help you identify and segment your leads without having to do all the work manually. Identifying and dividing the leads into buyers and sellers can give you a kickstart on your further marketing efforts.

Address the Needs of Your Leads

Another great advantage of automating the email marketing efforts of your real estate business is that you can differentiate and personalize your emails, hence, solving the biggest issue of paying attention to the needs of your leads. For example, sending a set of welcome emails whenever anyone signs up for your newsletter serves a quick introduction to your services and background.

Save Your Time

There's no lie that following up with your leads on email with regular drafting of email sequences is a tedious and time-consuming task. Hence, automating your email marketing can solve this problem by saving time and leaving you with some extra time to do other essential tasks related to your business!

Automate Real Estate Offers

Forget the manual hassles of updating your email list with any exciting offers you have on your services. When you automate your email marketing strategy, you can quickly generate and customize emails as per your audience.
Getting Started with Email Automation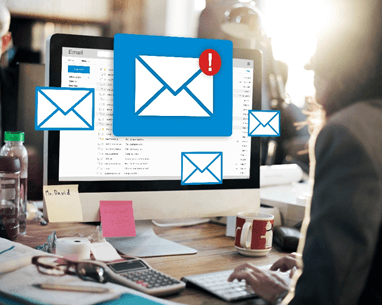 Pick the Right Email Automation Tool

With the rising popularity and increasing understanding of the correct usage of an automation tool/platform, there are abundant tools in the market. But exploring their pros and cons is necessary to understand which tool suits your business needs. Ideally, the right email automation tool should fit your budget and have everything required to ease your daily tasks.

Craft Emails and Create Campaigns

Once you have selected the correct email automation platform, it's time to craft emails. Start preparing your email sequences. Begin by building a welcome campaign for people who have signed up for your newsletters. You can even craft campaigns for website visitors who inquire about a property or use your tool. After writing emails, automation tools can help you by sending the right emails in the right order to the right people!

Analyze and Modify the Campaigns

Sending out emails is just one-half of your email marketing efforts. The other half includes analyzing the performance of your campaigns and modifying it for better results. Email automation provides information such as how many people read your emails, click the links, and contact you. With these statistics, you can understand what's working and what's not working; further changing things that don't work.
Tips on Automating Email Marketing for Real Estate
Make Full Use of Your Welcome Campaigns

The welcome email is the customer's first interaction with your business. It sets the tone you want to convey to your audience and leads to the ultimate decision of a lost or successful sale.

Try to understand the stage your customer is at. If your lead is not interested in buying a property just yet, calm down on the sales part. Don't be too pushy and instead focus on building meaningful communication.

Develop Your Content Strategy

Start writing informational blogs to show your expertise in the field to boost organic website visitors through SEO. AI is revolutionising the real estate sector by providing cutting-edge options for marketing and content development. You may improve your content marketing strategy as real estate agents by utilising AI technology. For instance one can use real estate AI marketing tools to effectively complete time-consuming tasks such as writing property listings, email marketing scripts & much more.

Organize Your Leads

One of the main reasons why real estate businesses use an email marketing automation tool is to organize their leads. It categorizes your audience based on their interaction with your content.

For example, if your lead is interested in buying a property but they have also interacted with your blog post that has tips for having a successful open house, it might mean that they are interested in selling a house for buying one. The automation platform will notice this behavior and fit them into your seller funnel to show them campaigns running for that audience.
Game Changer for Personalizing!
Emails are a personal way for businesses to strike a chord with their audience. And hence, it's important to personalize them to their full potential. Email automation tools help you achieve that and influence your audience's purchasing decision to its maximum ability.