What is Lead Generation?
The process of attracting and converting target audiences into customers interested in your product or service is lead generation. The goal is to close the deal by guiding the prospect through the buyers' journey to the end of the sales funnel and closing the deal. 
Focusing on lead generation can help you get more traffic from good prospects. Lead generation raises the visibility, credibility, trust, and interest of possible leads. High-value customers come from high-quality prospects, so the business makes more money. Lead generation for financial services is one of the most critical parameters to scrutinize business growth and brand awareness. It is an explicit contributing factor to the expansion of an organization.
Suppose you are a bank marketing professional, marketing for financial advisors, or looking for strategies to generate more banking leads. In that case, you undoubtedly understand the challenge to convince small business owners and CFO's to switch banks. To develop enough doubt in the minds of the small business owners about their current situation to consider meeting with your banking institution is also challenging. With these lead generation strategies for financial services, you can grow your business and the lifetime value of each customer.
According to Juniper Research, "The total number of online and mobile banking users will exceed 3.6 billion by 2024." With such a massive number of people being present on the web, it makes it necessary for the marketers of financial advisors to create powerful lead generation strategies for financial services to generate more financial and banking leads and generate more revenue for the business.
Here are five ultimate strategies to help in lead generation for financial services:
1. Target the local leads:
While you can target a vast number of consumers worldwide with the help of digital marketing, it is always beneficial and advisable that you put your marketing efforts towards the local consumers. By focusing on a small market and putting your targeting efforts in a smaller and more concentrated area you reduce your competition. You'll also be able to utilize local resources like community outreach programs and reputation management to connect with local leads directly. You can host networking events to draw in potential leads. Spending your time and money on these things will help you give your customers more personal service, thereby enhancing customer satisfaction.
2. Build a high-quality website:
It is essential that when visitors visit your website, they find the information quickly. If the information is hard to find on the website, the visitors will exit your website, which will increase the bounce rate, impacting your website's ranking.
The first impression of your business starts with the online presence itself. If visitors have a terrible experience while browsing through your website, they might find another bank online, and you may lose a prospect.
The idea behind creating a high-quality website is that the easier you make someone become your customer, the more likely they are to become one. If something is not convenient, people will not do it.
That is why it is crucial to provide high-quality information on your website, especially for the marketers of banking or financial services where competition is so high.
3. Don't forget to optimize the website for Mobile.
Banking or financial websites can generate more banking leads by optimizing their website for the 6-inch small screen – an innovative device used by 5.15 billion users worldwide.
Google explains that the mobile version of a bank's website determines its search rankings performance on smartphones and desktops. It is essential for lead generation for financial services that baking institutions implement AMP technology and optimize their mobile site speed to offer smooth navigation.
Mobile optimization techniques involve:
Compressing images and minimizing the use of code
Utilizing caching and avoiding blocking CSS/Javascript
Preventing use of flash or pop-ups

Also, it is essential to understand the phrases the customers use while searching for banks, such as "banks near me," and so on, to optimize your SEO efforts accordingly.
4. Enhance your semantic search capabilities:
People have changed how they search for things online today with technological enhancements. Typing short phrases on google is fast being replaced by intuitive voice search capabilities.
With intelligent voice applications such as Google Now, Siri, and Cortana, all users have to do is ask questions like: "Which banks offer the best car loan rates?"
Semantic search is simply the process of delivering search results based on user intent and contextual meaning.
As financial service providers, you can advance your semantic search capabilities by researching relevant keywords and creating content that revolves around the user's intent—the better the user experience, the greater the chances of financial lead generation.
To achieve semantic enhancements, create relevant answers for "what," "why," "how-to," and "how much" questions.
5. Make your Content Marketing Game Stronger:
If your website doesn't pop up on the SERPS, you lose many leads. One of the best ways to capture and nurture leads and build customer loyalty is content marketing. Bill Gates once said, "Content is king." It means that high-quality, engaging, and relevant content contributes significantly to the success of businesses on the Internet. Whether you want to educate your target audience on existing products and services or whether you wish to improve your search traffic, providing powerful insights through your content can enhance your content marketing efforts.
In the ever-growing world of the World Wide Web and with the introduction of web 3.0, it is essential more than ever for marketers of financial advisors or banks to put the lead generation strategies for financial services in place to generate more and more banking leads.
Following these strategies for the lead generation above will surely help you generate leads for your banking efforts.
About Author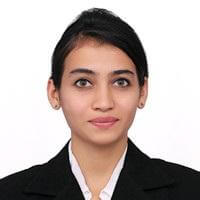 Shaifali Parihar
Shaifali is a content writer who is a marketing geek holding a degree in MBA-Marketing. She writes about digital marketing strategies, metaverse marketing, content marketing, metaverse, artificial intelligence, B2B marketing, blockchain and cryptocurrency.
Email : [email protected]