If you ask any marketer about good content marketing, they'll tell you that intent is everything. In the past, Google's algorithm would offer results for search queries based just on terms. It's all about purpose today, and search engines are getting better at figuring out what we're looking for.
Making content focused on the needs of your customers can have a huge impact on your conversion rates as well. Even some marketers think that targeting based on intent is superior to targeting based only on demographics.
As a result, targeted traffic most likely to result in actual sales can be attracted. Here are a few pointers to get you started with creating content to attract your target audience.
Consideration of Various Forms of Intention

User intent is the objective that someone has in mind while putting a question into Google. There is a variety of reasons why someone might be on the internet; for example, they might be wanting to buy something, find out more about a topic, or visit an individual website. Look at them:
Navigation: Searching for a particular website
Transaction: In the process of purchasing something.
Information: about the pursuit of knowledge
Navigational queries

Navigational Queries are generally simple. There's nothing you can do to entice the visitor if they aren't specifically searching for a particular website or page. In contrast, intent-based content can be used to satisfy informational and transactional requests, respectively. We'll be focusing exclusively on those queries, as they comprise the majority of searches today.
There is nothing you can do to get their interest while they are searching for the right resource in a navigational search. When compared to transactional and informational searches, intent-based content can't be provided. Today, the majority of searches are for these two topics.
Inquiries for information

Informational queries generally occur once the seeker is hoping to learn further. For the most part, the visitors that come to your site via informational queries are looking for information about your business or the items that you offer. As they aren't necessarily looking to buy, these searchers are frequently closer to the top in the sales funnel.
Educating your potential clients and moving them further off the sales funnel is easier said than done, but there are dozens, if not hundreds, of useful instructional topics to choose from. When a person wants to know more, they'll type in these kinds of questions.
People who are looking for information about your sector or the things you provide are the most likely to visit your site. In the sales funnel, these individuals will show at the very top, as they are merely conducting research. You may educate them so that they can progress farther down the sales funnel.
Transacting Queries
To put it simply, transactional queries occur when a user is wanting to buy anything. Marketers get thrilled about inquiries like these because they indicate a potential customer is ready to make a purchase. And it's an excellent chance for you to help them out.
Your sales pages can assist these visitors to convert by ensuring that you include all of the necessary product information. You should also make the checkout procedure as simple and efficient as possible, and address any concerns that customers may have.
The following should be included in transactional query content:
Deal with the most pressing issues
Make a compelling argument for your visitors to take action by providing thorough coverage of the solutions you supply
Once you've learned about the various forms of searcher intent, it's time to figure out how to create content that meets those demands.
Because this type of search indicates that the user is ready to buy, marketers get nervous. And it's a terrific chance to help them along the way. On your sales pages, you may boost the likelihood of conversion and provide details about the product. Your goal should be to streamline the acquisition process and address any concerns potential buyers may have.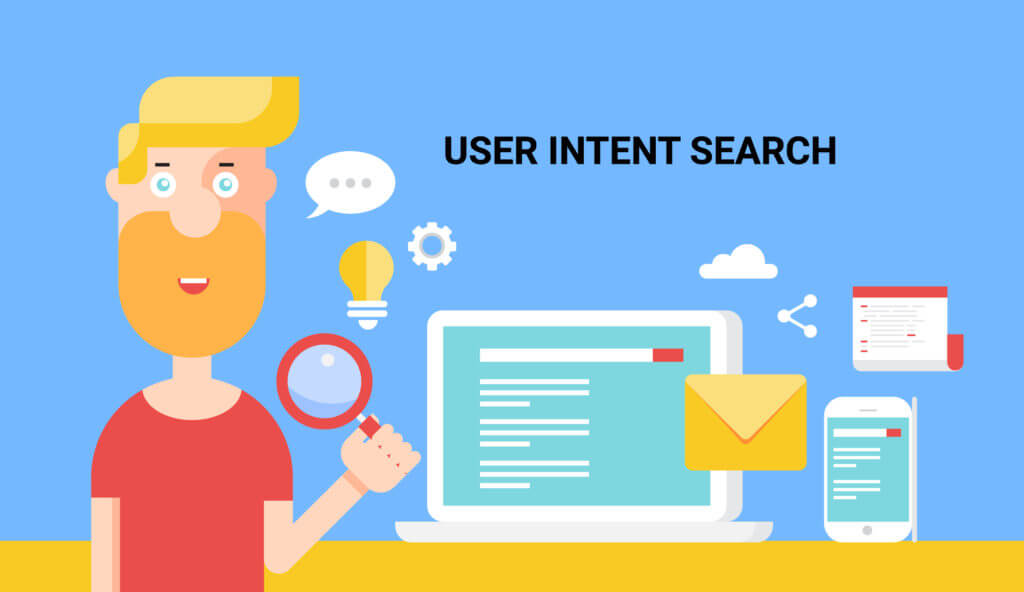 Based on the user's intent.
If you want to create material that is geared toward a specific audience, you may want to look at the keywords they use to locate you. For example, you can determine whether the search is transactional or informational by looking at what potential consumers are searching for.
However, there are situations when inquiries have more than one purpose. To attract new clients, you must know what your audience is searching for and then employ long-tail keywords to create effective content.
Conclusion
In today's world, content that targets a certain user intent is king. A customer-centric strategy has helped me develop content that my consumers are interested in, which has led to increased traffic to my shopping sites and a better SEO ranking.
As a bonus, creating content with intent in mind might help you keep your material relevant in the long run. Because of Google's ever-increasing emphasis on "intent-based" search, tutorials and how-tos will continue to score highly. A company's success will be determined by its ability to produce the greatest and most relevant content and make use of Content Marketing Services.
As we've seen, an intent-based strategy aids in the creation of engaging content that drives more visitors to company websites and improves SEO. Google and other search engines tend to favor intent-based search, and intent-based marketing ensures that your content will remain relevant in the future.
Author's Bio
Harsh Vardhan Dutta
Harsh Dutta is the Founder of Content Writing Agency – Italics. He is a seasoned entrepreneur, Digital Marketer, and Professional Copywriter with a heavy passion for digital marketing.
LinkedIn- Harsh vardhan Dutta