In recent years, companies needed to find a way to keep their businesses relevant without using the old form of advertising – print. Today, thanks to the marvels that technology brought us, business owners have far more power to reach their Millenial or Gen Z target audiences. One of these marvels is what we call "TikTok".
Technological advancement is one of the reasons why any business in this current time couldn't fail. Almost everybody owns a smartphone and spends at least 4.8 hours of waking time looking at their devices. People that have accounts on TikTok use the app at an average of 10 minutes every time they open the app, and they visit it an average of eight times a day!
With those statistics alone, a business can create and upload a video showcasing its products or services and instantly get a Millenial or Gen Z warm lead. And the good news for you is that TikTok recently launched their own Lead Generation feature to help brands increase their visibility, thus increasing lead generation and sales.
So, what's Tiktok's Lead Generation feature?
The social media marketing world has been taken over by TikTok marketing and claimed its place on top of it since 2019. It had over 65 million installs by 2021. With that said, not running videos on TikTok as part of your marketing strategy means losing on a lot of sales and lead generation opportunities.
Be it a small or a large scale business, TikTok's Lead Generation feature allows these businesses to interact with their prospects and convert them into paying clients with ease. If users see your TikTok video and get interested in what you're advertising or promoting, all they have to do is to complete a simple form (including name, email, and phone number).
Other than that, TikTok will assist in populating basic information that their users already supplied upon account creation. This approach helps make the process efficient and easy for the user. The information that you get can then be integrated with your CRM.
The key benefit of TikTok's Lead Generation feature is that it can help businesses act on the leads immediately. In addition to that, it can also help create personalized messages that are suitable for different customer segments.
TikTok's reason why they launched a Lead Generation Feature
Like any other social media platform, TikTok looks to upgrade and improve its services to promote user experience and provide more advertising opportunities.
TikTok's newsroom said that TikTok wants to support and empower businesses on their platform. Giving them an easy opportunity to connect with their customers while making sure that their community feels comfortable and safe on their platform. TikTok also said that they are continuously creating policies to empower businesses to share their stories while making sure that the information of their users are safe within the platform.
Benefits of TikTok Lead Generation for your digital marketing strategies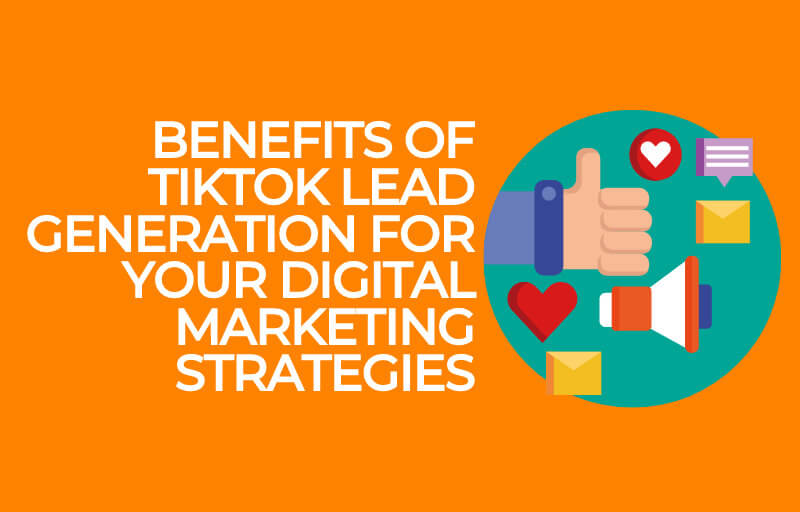 Any budding online entrepreneur will always try to find an additional social media platform to generate further leads and sales, and right now, TikTok is the hottest one out there.
With the popularity of social media ads but also becoming more expensive, TikTok's Lead Generation feature offers a more affordable option for algorithm insights. With that said, more leads can be further generated, and more optimized ad campaigns can be created.
The relevance of TikTok and its engagement to people provides a delightful experience to its audience and lets them be more open-minded to calls-to-action and brand messaging.
TikTok beat its rivals in numerous ways. TikTok In-Feed Ads acquire 23% higher detail memory compared to television ads, while TikTok TopView ads exceed Television by 40%.
How to create an engaging and compelling TikTok ad
Get the attention of your audience immediately.
TikTok users will never run out of great content to consume once they get into the app. When users access the TikTok app, they will instantly be greeted by their FYP or For You Page. The FYP offers continuous videos from other TikTok users worldwide.
Eye-catching videos will attract your prospects and make them stay and watch because they got interested. Your viewers will scroll right past your ad if you fail to catch their attention at the very beginning. Remember to mention the pain points of your target audiences first and let them know how to solve them.
Dish out great content with creative and exciting ideas to grab your audience's attention. Remember to add a title or caption to your video since this will help your audiences know what your video is about. This will make them hold on to the relationship you're trying to materialize.
Do the KISS method when creating videos (Keep It Short and Sweet)
TikTok video views increase drastically if the attention of its audience is already captured within the first three seconds. In addition to that, it will help make them stay and finish the ad if you include fresh and exciting concepts. It is best to keep TikTok ads under 60 seconds or less but what's advisable is to make these video ads for only 15 seconds.
Knowing your audience's interests and creating videos according to those interests will quickly grab their attention. Make sure to describe your concept with a crystal video for them to comprehend your presence on TikTok. When the videos you create pique their interest, explain the idea within 15 seconds, TikTok users will start wanting to see more of you. Don't forget to establish your core message in all the videos you create; this will help build trust and support audience engagement.
Follow the trend and join challenges!

Your viewers will be more inclined to keep watching you if you connect with them through relatable content. TikTok has given a method to obtain this with ease by presenting a "challenge" feature. It's as simple as TikTok users creating a video and inspiring others to create a similar video and upload it to their accounts.
Making attractive challenges will help you gain a ton of TikTok likes. The FYP or For You Page has thousands of challenges you can choose from, and you can create a similar one according to your niche. It's either that or you can create your challenge.
When people see that the challenge you created is entertaining, users will gather to your account to participate. The possibility of them challenging their friends and family to join will also help raise your engagement rating. Talk about hitting two birds with one stone!
Consistently post content

There's a critical factor that needs to be considered to fully reap the rewards of audience engagement: Consistency.
Your engagement rate will not improve just by showing your presence on TikTok. Posting regular content on your TikTok page will establish your presence and consistency. Consistency is not only the key; you also need to make sure that you're posting content when people are in the app.
It will help audiences remember you if you consistently release great content, but you don't need to post three videos a day. Select a single time slot every day according to the list above, then post a video per day and watch as your engagement grows. The videos need to be high-resolution and should always focus on your goal – this will help users identify you quickly. Make sure that every content you release is unique and different from what your competitors are releasing.
Here's an updated schedule that influencermarketinghub.com released for TikTok content posting (note that this is all in EST):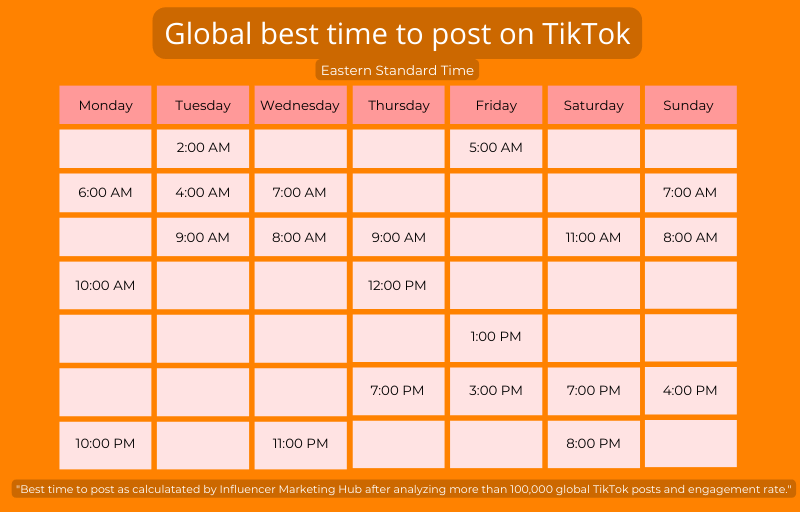 Don't forget to write captions and incorporate #Hashtags.
A lot of users watch TikTok ads with their sounds off. If you fail to add captions, they'll just keep scrolling since they don't know what your ad is about.
Another sure-fire way to improve your visibility on TikTok is by incorporating the use of hashtags. Although Twitter was the pioneer in using this feature, it also got popular on every social media platform. Making sure to choose the best engaging and relevant hashtag is also essential.
There are a lot of free tools you can use to find hashtags for your ad. TikTok also made it easy for you because you can already see those hashtags on the Discover page on the app. Type in a keyword relevant to your content, and you'll get a list of hashtags.
You can also use your brand name as a hashtag, and you can also create a hashtag challenge – this will help you be more visible to your target audiences. Do not use the same hashtag in your content; this will cause viewers to skip your video. Use a maximum of five hashtags to make audiences engage with your account; this will help improve your ranking.
About the Author
Simon Usai
Simon Usai, CEO and founder of Gigaleads (gigaleads.org) with 5+ years of experience with digital marketing. Helps small and medium businesses generate quality leads throughout Europe.