Why You Need to Optimize Your LinkedIn Profile in 2022
Did you know that every 4 out of 5 B2B leads are generated through LinkedIn? Yes, you heard that right!
LinkedIn is B2B goldmine!
And if you're not using LinkedIn to its fullest potential, you're leaving money on the table for other B2B businesses to grab. You need to optimize your LinkedIn Profile to get max exposure and easy inbound leads.
Most of the Fortune-500 decision-makers are waiting on LinkedIn for you, ready to spend money on your product or service. So stop waiting for the right time to arrive.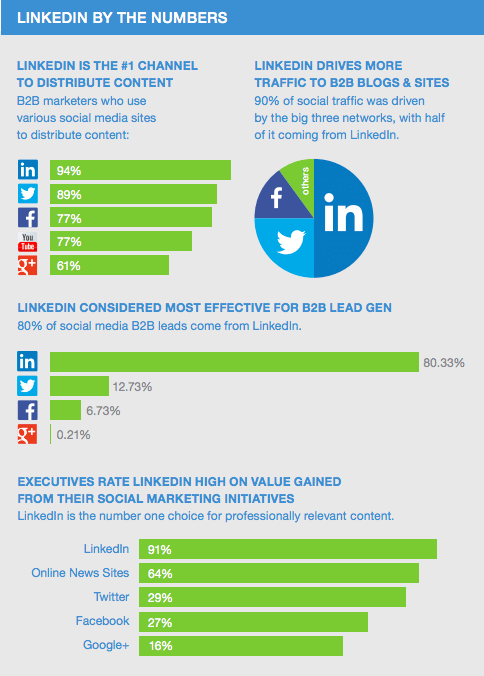 Source
The first step of building your presence on LinkedIn is to optimize your profile.
Since LinkedIn looks like a somewhat complicated platform to use compared to Twitter or Facebook, very few have actually done profile optimization right.
How does LinkedIn work?
Unfortunately, the majority of people on LinkedIn do not understand how it works. Or how to use it to their advantage.
Unlike Twitter, Facebook, or Instagram, LinkedIn is not just a social media platform. It is a search engine just like Google but for job search, lead generation, professional collaborations, and content distribution.
Now, how does this help you?
Why should you optimize your LinkedIn profile?
LinkedIn, being a search engine, is definitely a massive opportunity for you.
Think about it – people are going on LinkedIn every day to look for products and services that you offer.
This means people on LinkedIn are looking for you. All you need to do is optimize your profile so that you land up at the top of their search.
For example,
if I search for "Mobile app developer" on the LinkedIn search bar, here's what I see: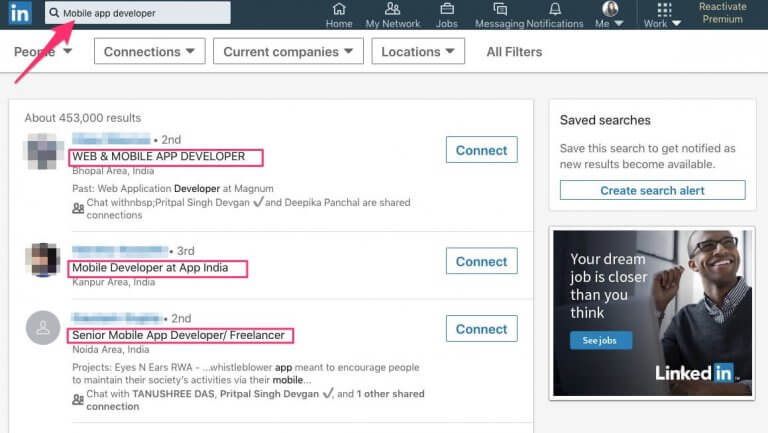 All the people who have optimized their profile for "Mobile app developer" come up.
Also, If you want to generate leads for your B2B business, your prospects will get your first impression by looking at your LinkedIn profile.
This is why it's so important to optimize your LinkedIn profile.
B2B lead generation is just the first step to your success on LinkedIn.
The most critical next step is conversion. And how does LinkedIn profile optimization help with your conversions?
You let your customer know that you are solving their pain point through your profile.
You are building credibility through your profile.
You're showing them your personality through different elements on your profile like the profile picture, cover image, headline, about section, etc.
You are building social proof through LinkedIn endorsements and recommendations.
In short, your LinkedIn profile acts as your own landing page. And optimizing your landing page obviously leads to more conversions. Which is exactly what you must be aiming for!
This is why optimizing your LinkedIn profile is super important if you take your B2B business goals seriously!
Let's find out how you can optimize your LinkedIn profile step-by-step to get more leads and conversions for your B2B business:
Step 1: Set your goals
Before you start optimizing your LinkedIn profile, it's very crucial to figure out what is that you want to get out of LinkedIn.
For example, you may want to:
Generate leads for your business
Land speaking gigs
Build your personal brand
Build a strong network with people in your industry
Promote your book
Land your dream job
Recruit people for your business
Offer 1-on-1 services to people
Coach people in your industry
And many more!
It's essential to figure out your goals first because you will be optimizing your profile based on these goals.
Optimizing your LinkedIn profile without figuring out your goals is like shooting blind arrows in the air. So do not skip on this step!
Step 2 : Draft your ideal customer persona
Once you've set the goals that you want to achieve using LinkedIn, the next most important step is to figure out your ideal target audience.
This is important because you will be targeting your ideal audience with your LinkedIn profile to maximize your conversions. Hence, again, do not skip this step!
So, how do you draft your ideal customer persona? You may start by asking these questions:
Who is your ideal target audience? (age, gender, education, etc.)
Where are they located?
What do they do for a living? (their profession, industry, experience, current position)
What are their professional goals?
What are their pain points? What problems are they facing that you can solve for them? What objections might they face while looking for services that you are offering?
What are their professional/personal interests?
Answering these questions will help you understand your ideal customer more. By understanding your ideal audience, you will achieve your B2B goals will more precision and ease.
This step will help you connect with the right people on LinkedIn, and eventually will lead to more leads.
For example, if you're an agency looking to offer SEO services to app development startups, your ideal customer persona might look like:
A male in his 30's, located in the US, has recently found an app development startup business. His pain points are that he is not getting enough customers for his business. And his objection to hiring an SEO expert is the lack of experience and constraints in the budget.
By understanding this, you will be able to laser target your ideal audience on LinkedIn. And this will increase your probability of success on the platform.
Step 3 : Brainstorm your ideal CTA
Now that you have set your goals, and drafted your ideal customer persona, it's time to set your CTA. Your CTA is nothing but the desired action that you want your customers to take.
You will be using this CTA on your profile to drive the desired action through your ideal target audience.
Here are a few examples of how your CTA can look like. You might want your target audience to:
Click on the link to your website
Connect with you and start a conversion
Check your portfolio or services page
Book a discovery call with you
Offer you a job
Hire you for a gig
Hire you as their coach
Learn more about your personal band
Based on your CTA, you will be moving your audience to take the exact action that you want them to take.
So, brainstorm and think about your CTA before starting with your LinkedIn profile optimization.
Step 4: Find your LinkedIn keywords
As mentioned before, LinkedIn is a social media combined with a B2B search engine. Hence, just like Google, Bing, or any other search engine, LinkedIn too works on keywords.
So, for the LinkedIn search to work in your favor, all you got to do is figure out your keywords and strategically add these keywords throughout your LinkedIn profile.
So how do you find your keywords? Your ideal customer persona, goals, and CTA all come into play for finding your keywords.
Make a list of the services that you are offering like SEO, social media marketing, mobile app development, etc.
Brainstorm on what your target audience is looking for. For example, your target audience may be searching for "Android Developer" or "SEO for B2B business" or "Social Media Marketer."
The set of LinkedIn keywords that you want to use on your profile should be a combination of both the above.
Using these questions, make a list of 3 to 5 keywords to optimize your LinkedIn profile.
Step 5 : Optimize your LinkedIn profile
By now you know:
Your goal
Your target audience
Your CTA
Your LinkedIn Keywords
By now you know:
With these things in mind, you can start optimizing your LinkedIn profile.
1. Profile picture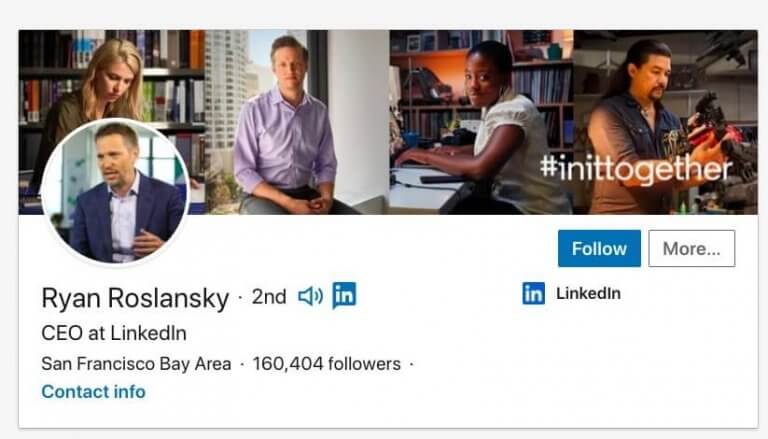 We all know that first impressions are super important and a profile picture is what gets your viewer's attention first.
So here are a few things to keep in mind while setting your profile picture on LinkedIn:
Do not leave it blank. Adding your profile picture makes you seem more approachable to your target audience and builds trust. LinkedIn profiles with pictures get 21 times more views and 36 times more messages than those without any profile picture.
Add a high-quality picture with a simple background. Do not add blurry pictures.
You can keep your profile picture casual or formal, depending on your target audience. You don't necessarily have to always pose in suits. But, do not keep it overtly casual or inappropriate.
A clear headshot of you with a smile works the best. Remember that you should seem friendly, approachable, and professional. Make sure that your attire is appropriate.
2. Headline
We all know that first impressions are super important and a profile picture is what gets your viewer's attention first.
So here are a few things to keep in mind while setting your profile picture on LinkedIn:
Your LinkedIn headline is the most important part to be optimized. Here is where you add your keywords. You can also add your current position here.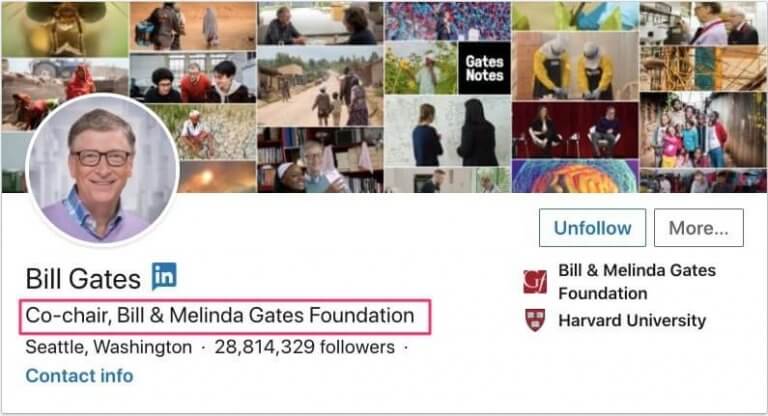 Your headlines should be:
Precise and to-the-point
Authoritative
Clean and clutter-free
Easily skimmable
Approachable
Your headline should ideally consist of your keywords, but it should sound compelling at the same time.
You can also directly address your target audience in your headline. For example, you can say, "Digital marketer for SaaS startups".
Also, remember to stay away from witty taglines or vague descriptions that no one would understand. For instance, saying something like "I help online businesses" is not going to help. Who are you helping out? How are you helping them?
If you're completely lost on how to make up the best LinkedIn headline for your profile, we have come up with a list of sample headlines for you to use on your B2B LinkedIn profile.
Get some best LinkedIn profile headlines in your inbox.
3. Intro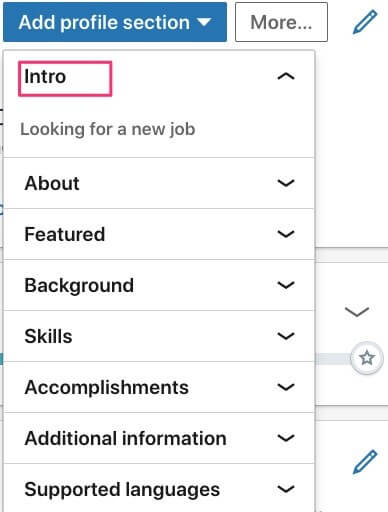 LinkedIn gives you options to add your basic information. It is essential to fill these up because LinkedIn prefers complete profiles more than half done ones.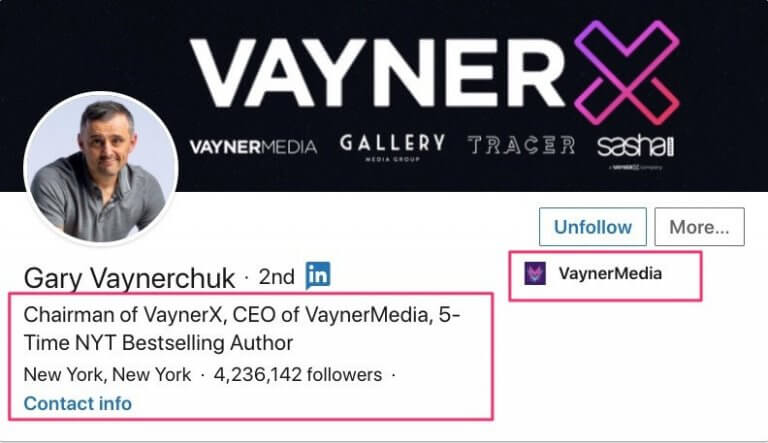 Here are the sections that you should fill out in your Intro,
Current position – Add your current position in your company or business, like "Founder at VaynerX" or "Growth Hacker at VaynerX."
Location – Add your current location like your country and city. This helps people in your location find you easily. This also helps with the LinkedIn search filter options.
Industry – Industry also helps during filtering searches on LinkedIn. For example, if your target audience is using the Telecommunications industry as a filter while searching on LinkedIn, then you would be filtered out no matter how well you have optimized the other things on your profile.
Contact info – Adding your contact info is also extremely important. I've seen so many profiles where people say "Offering XYZ services," but when I open their contact info, it is empty! LinkedIn gives you options to add your website link, your email id, and Twitter ID.
Name pronunciation – This is a new feature was introduced by LinkedIn in 2020. You can record your name's pronunciation and add it to your LinkedIn profile, which is super cool!
4. Cover Image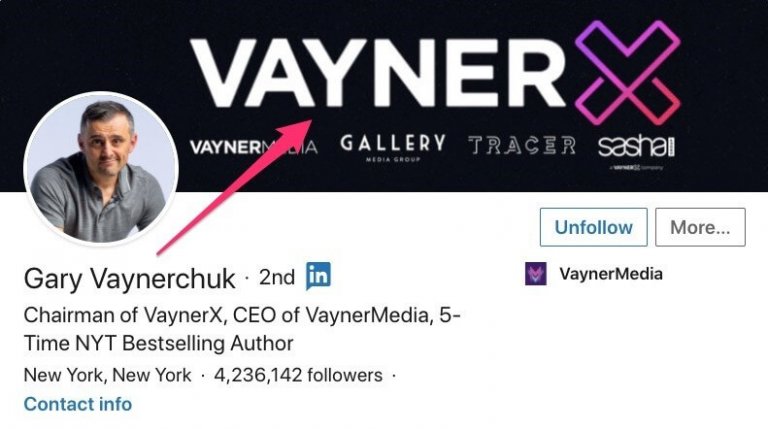 LinkedIn banners or cover images are a gold mine to showcase your credibility, attract your prospects, and intrigue them. But it's such a waste to see a great majority of people not changing their default cover images.
It takes just 10 minutes to create a custom LinkedIn banner for your profile. And one of the easiest ways is using the free tool Canva.
Hop on to Canva and search for LinkedIn banner templates, and you'll get some amazing templates to work with.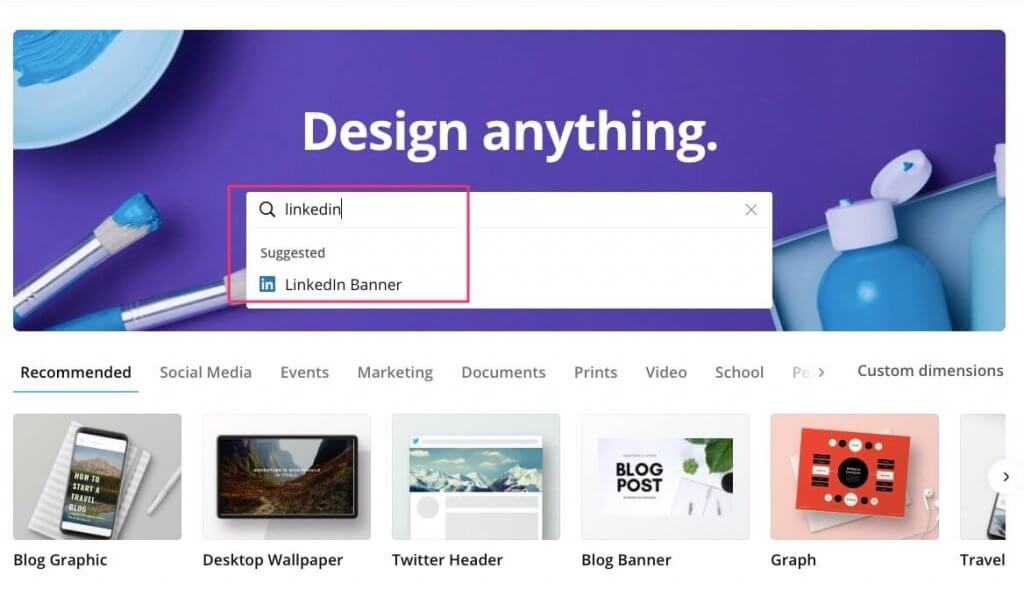 Select one of the templates and start customizing as per your needs.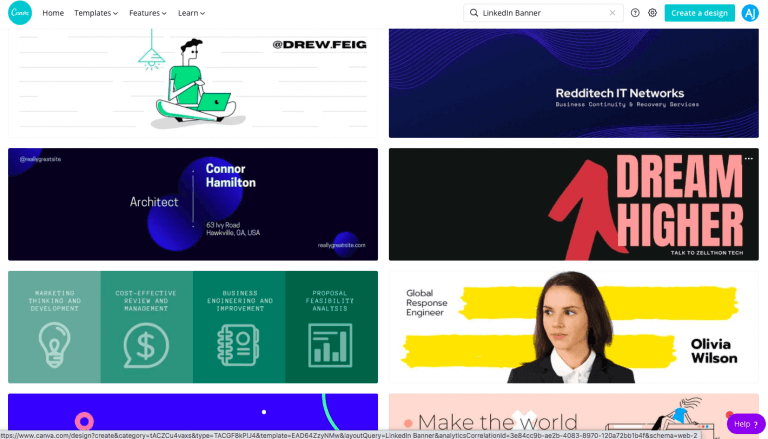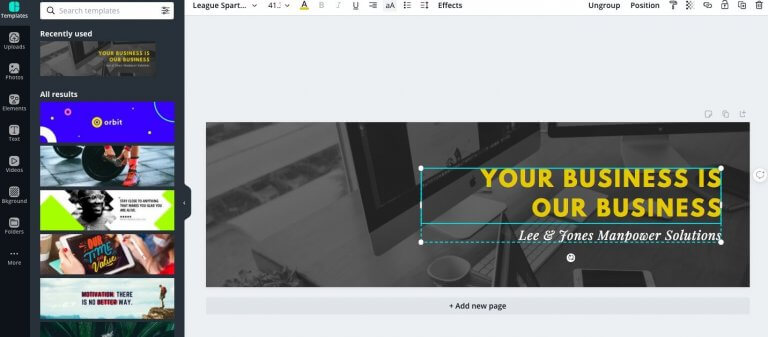 Here are a few things you can add to your cover image:
Add your business name, website link, and social media handles.
A brief call out to your target audience, and how can you help them.
Any background image that builds your credibility like you talking to a large audience, conducting a seminar, or holding your book.
Include your CTA.
Do not stuff your cover image with all these things. Try to stick to one or a maximum of two of the above points and make it as attractive as possible.
5. About Section
If your prospect is sold on your profile picture, headline, and cover image, they will come to the next most important section of all – the About section.
This is like the About page on your website. This is the largest space that LinkedIn provides you with, so it's important to put a compelling picture here.
 Here are a few best practices:
Introduce yourself and your offering.
Tell your story and build a personal connection by revealing your personality.
Address your target audience.
Describe how you can solve their pain point.
Highlight your USP or your value proposition.
Add some credibility or social proof like testimonials, some results that you can showcase, etc.
Add your CTA!!
Add your contact details.
And most importantly, add your keywords in this section. Make sure to add them naturally instead of forcefully stuffing your keywords.
And remember not to just ramble on and on about your achievements and your passion. Your About section should be about how are you going to help your target audience and why they should pick you. So stick to that!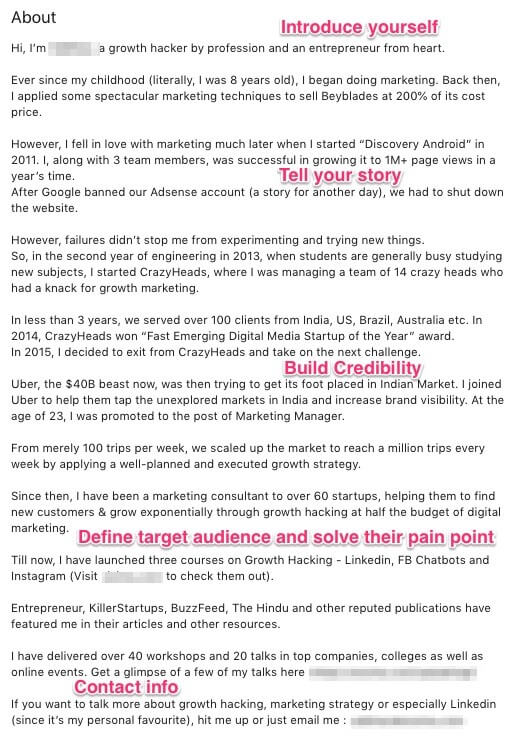 6. Featured section
The featured section is another not-so-well-understood section. But you must know that the featured section on your LinkedIn profile has great potential for adding your CTAs or showcasing your work. This is where you showcase your best work to your prospects.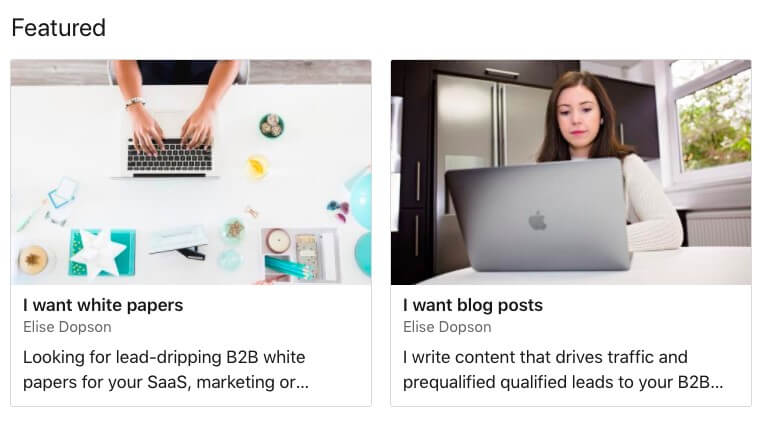 LinkedIn gives you options to add any of the following on your featured section:
Your LinkedIn Posts
Your LinkedIn articles
Any media like photos, documents, or presentations
And the best part of all – links to web content
So how do you make the best use of your featured section on your LinkedIn profile? Here are a few things you can do: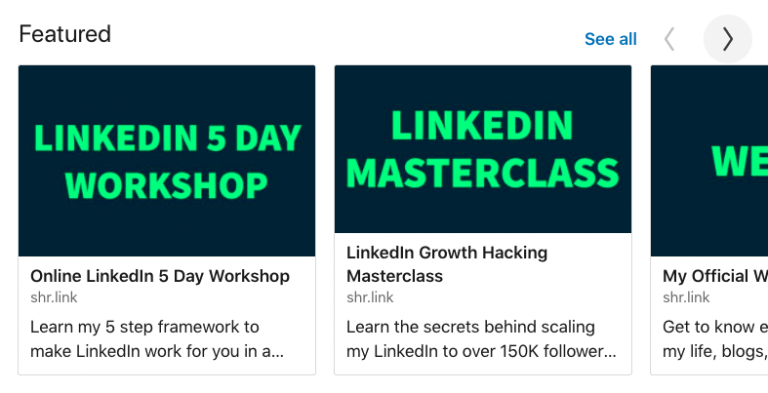 Add your CTA link here. For example, if your CTA is to redirect people to your landing page, then you can add the link to your landing page in this section.
Add a link to your published content on the web like guest posts on authoritative sites, your blog, etc.
Add a link to showcase your work here. For example, you can add a link to your website portfolio, or a case study on your B2B business, or a presentation that showcases all your best work.
Add a link to your viral LinkedIn posts, articles, or photos. By seeing this, your prospects will instantly notice the kind of engagement you get on LinkedIn, and this again adds value to your personal brand.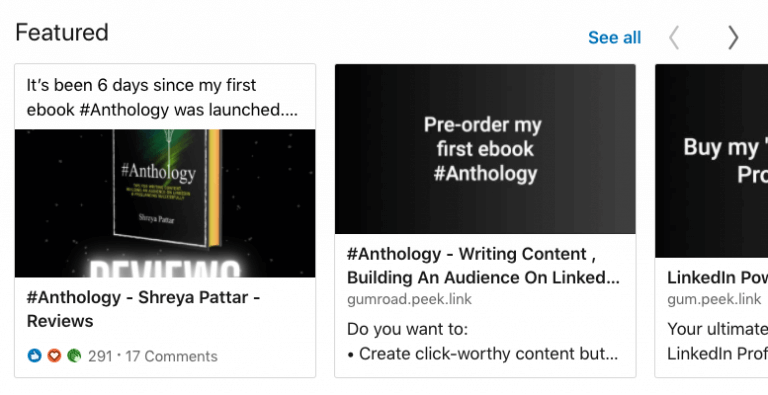 7. Background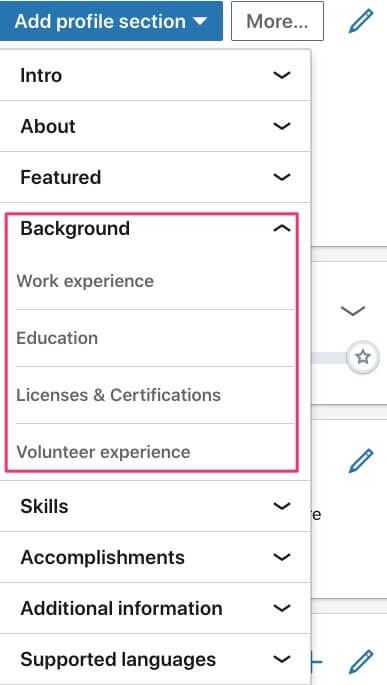 The background is one of the most boring sections to fill out on your profile. But you shouldn't take these sections is light because you should be adding your keywords in these sections too.
Work experience – Most people make the mistake of treating your LinkedIn experience section like your resume. That's a mistake because your experience section can be extremely helpful to show your authority and credibility in your field. If you say that is going you've 7 years of experience in the industry, and you describe how you contributed to it, then it instantly makes an impression on your prospect, and they are going to see you like a pro. And also, add your keywords in your experience description. Your experience section can also include your work with your clients and the company that they were in.
Education – Again, adding your education details adds value to your profile and also helps with the LinkedIn search. So do not skip this part.
Licenses & Certifications – If you've any special licenses or certifications that add value to your profile and profession, then make sure to add it to your profile.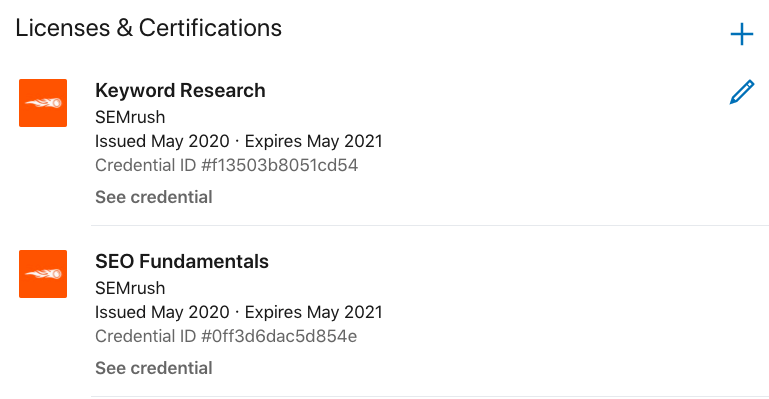 Volunteer experience – This may seem unnecessary, but adding your volunteer experience reflects your personality, and it just adds more value to your LinkedIn profile.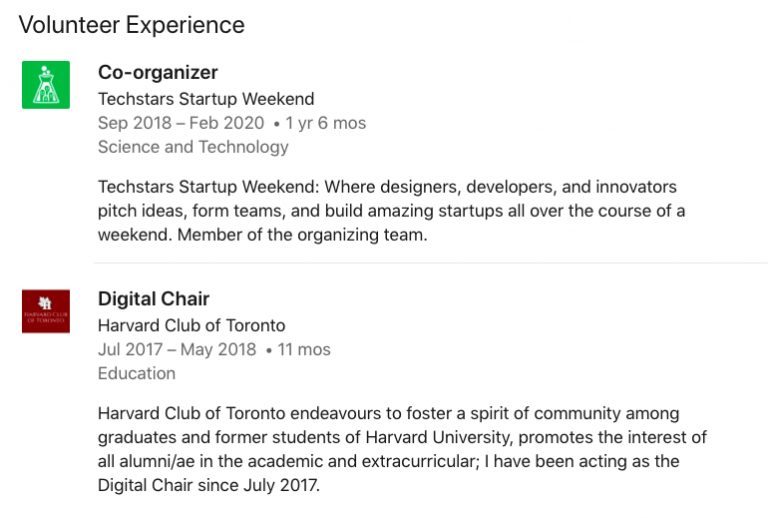 8. Skills & Endorsements 
Skills and endorsements help people know about the various skills you have related to your industry or profession.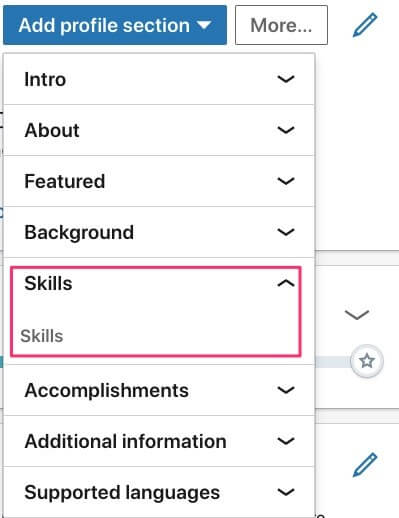 LinkedIn provides you with the option to add skills to your profile. LinkedIn also provides you with assessments to take so that you can be marked as qualified in those skills.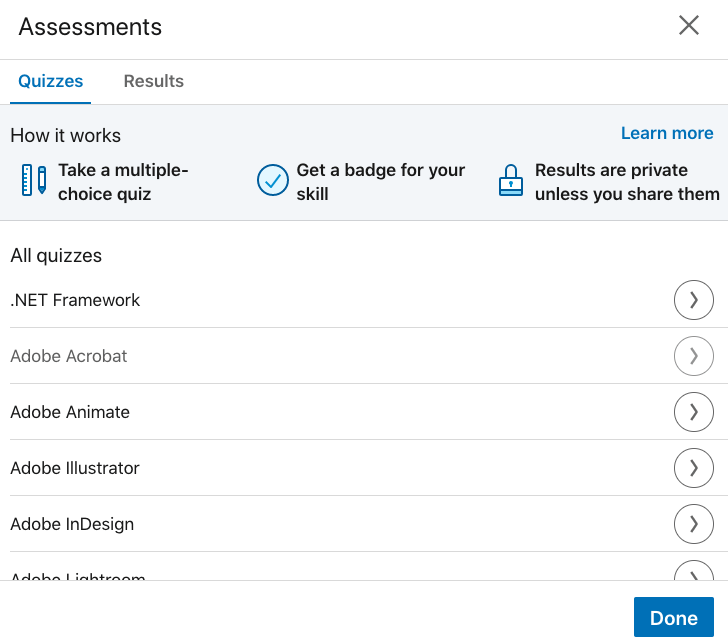 Your colleagues, peers, clients, or anyone can also endorse you for the skills that you've added to your profile. This again adds credibility to your profile and shows your prospects that you actually do have those skills.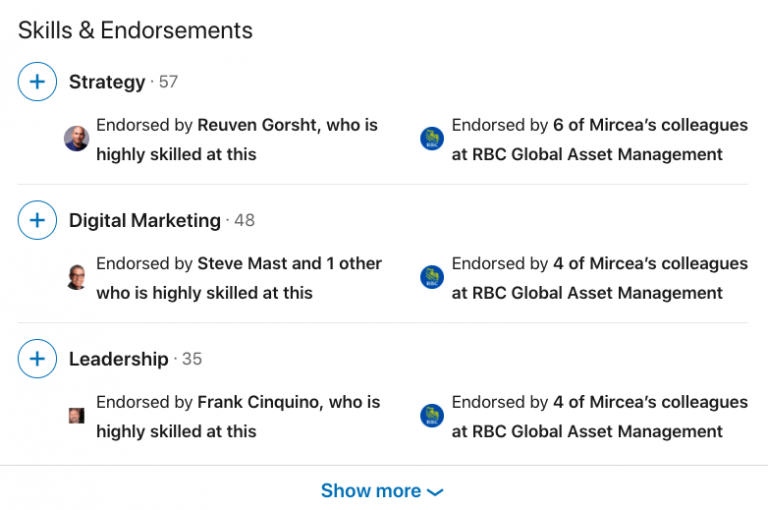 9. Accomplishments
The accomplishments section is another place to let people know more about you and your work.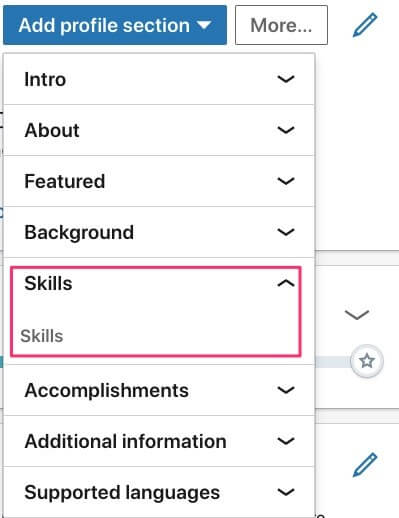 LinkedIn gives you options to add any of the following:
Publications.
Patents.
Courses.
Projects.
Honors and Awards.
Test Scores.
Languages.
Organizations.

LinkedIn gives you options to add any of the following:
You can also add brief descriptions of each of these sections.
Again, try to fill out as many as possible. This will again help with your LinkedIn search.
10. Recommendations
This is again one of the best features of LinkedIn. Recommendations are nothing but testimonials that other people on LinkedIn can give you.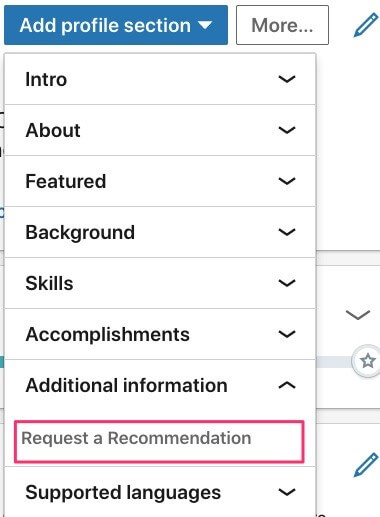 You can either request people for recommendations or they can give you recommendations on their own. But do not just simply request random people to give you recommendations.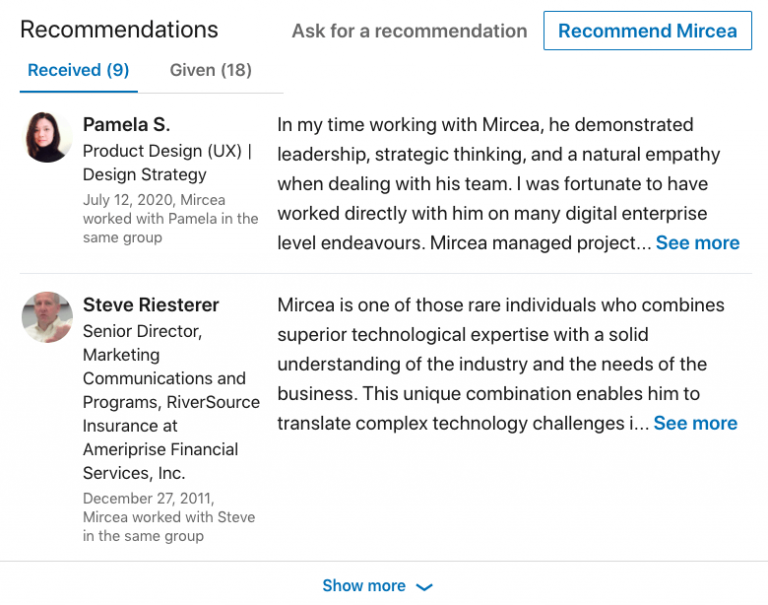 Here are a few best practices to follow for LinkedIn recommendations:
The right people to ask for recommendations are your clients, peers or superiors in the workplace, or someone you have helped out.
Talk to them about recommendations, ask if they are okay, and only then send a recommendation request on LinkedIn.
Make sure that your recommendations are relevant to what you are looking to offer your target audience.
11. Looking for opportunities/Providing services
If you're looking for job opportunities, then LinkedIn helps you add it on top of your LinkedIn profile. Say if you add that you are looking for job opportunities as a social media marketing manager, then when companies search for social media managers to hire, you are going to crop up in their search and this will let them know that you're interested in a  job.
LinkedIn also lets you add the "Providing services" part to the top of your profile. So you can add things like proving PHP development services, or speaking gigs, etc. Sadly, this feature hasn't been rolled out for all LinkedIn profiles yet.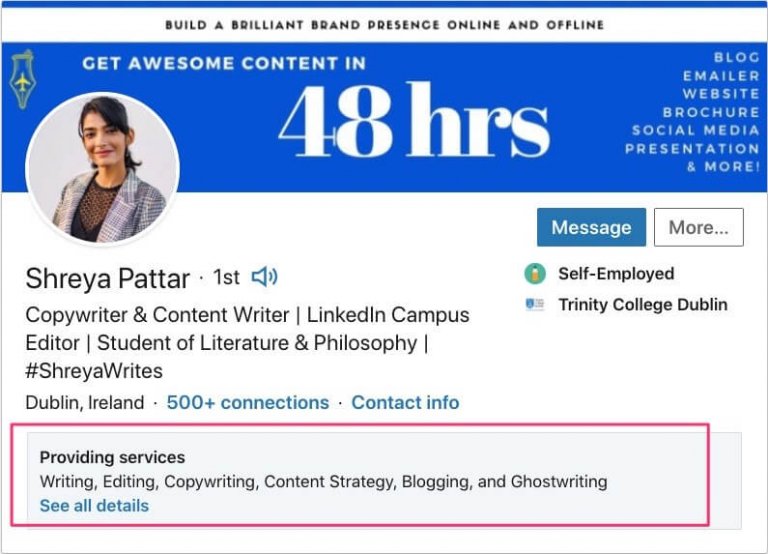 12. Interests
Your interests section features people or companies that you follow. Try to follow thought leaders or companies relevant to your industry. This will give your prospects some ideas about your interests.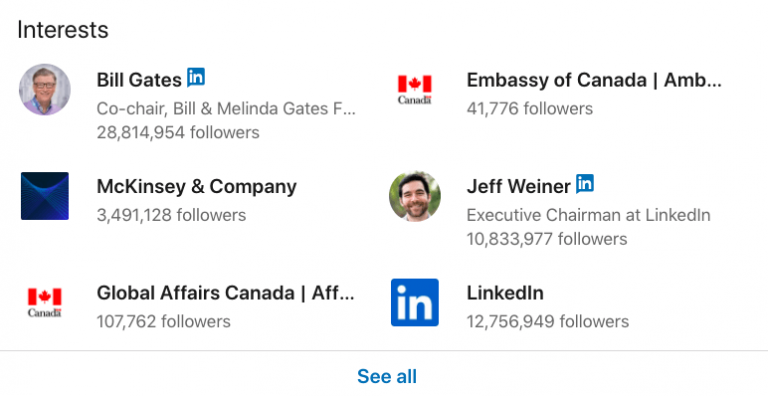 13. Customize your URL
When you create your LinkedIn profile, by default, you're given a random URL by LinkedIn which doesn't look good when you are sharing your LinkedIn profile link with other people.
This is why LinkedIn gives you the option to edit your public URL to make it look cleaner and more meaningful. This small step lets people know that you're a professional and that you really are serious about this. So try not to skip this part.

Get some best LinkedIn profile headlines
in your inbox
Bonus tips
By now you would have been done with your LinkedIn profile optimization.
But, if you want to go the extra mile, make note of the following bonus tips as well. These can also be a major contributing factor to your LinkedIn B2B conversions.
1. Tell your story
In today's day and age, with billions of B2B businesses cropping up worldwide, people are getting more and more interested in knowing the people associated with the businesses.
So, tell your story. Make it relevant and relatable. Be honest. By doing this, you're building a personal and genuine connection with your target audience. And they are going lean towards you more.
2. Build credibility
Your target audience is going to decide to approach you (or not) based on a single page – your LinkedIn profile. This is why every piece of information you add to your profile should make you look credible.
For instance, if your profile picture is empty and your headline says "Developer," do you think the person looking at your profile will find you trustworthy and show interest in you?  Of course not!
So go through your profile and make sure you add credibility wherever you can.
3. Stand out
There are 706+ million users on LinkedIn today who are just like you. So for you to stand out, do something unique, something creative.
Don't be afraid to show your real personality and your true self. Take a little risk and try to stand out amongst the crowd.
4. Solve a problem
If you're looking to generate leads for your B2B business, you are basically solving a problem that your target customers are currently facing. Hence this is what is going to generate leads for you.
So throughout your profile, like in your about section or your headline, or even your cover image, let your prospect know how you can help them. Just by taking one look at your profile, your ideal prospect should instantly get a feel of how you're going to solve their problem.
5. Do not leave any field blank
LinkedIn wants its users to fill out every field of their profile so that your profile is comprehensive and thorough. And even LinkedIn search works in your favor when you have filled out your profile completely.
So, try not to leave any field on our LinkedIn profile blank.
6. Places to add your keywords?
Here's a summary of places on your LinkedIn profile where you should be adding your target keywords:
Headline
About
Experience
Skills & Endorsements
Recommendations
Licenses & Certifications
Featured
Accomplishments
7. Do not stuff keywords
Keyword stuffing means unnecessarily cluttering your profile with too many keywords. These do not look appealing at all, and they instantly drive your customer away.
8. Make your profile public
All these LinkedIn profile optimization efforts will go to waste if you don't make your profile public on LinkedIn.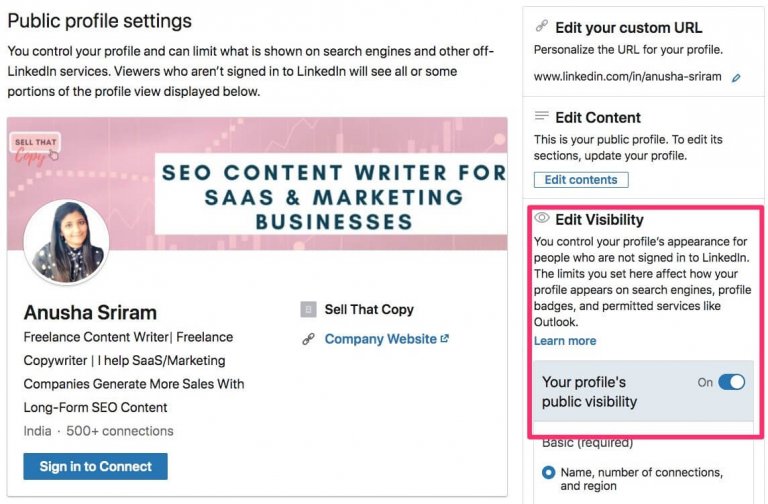 9. Build relevant connections
Remember to build a network of connections with people who are your target audience or people who are related to your industry and will be interested in the type of content you put out on LinkedIn.
10. Post content regularly
This is not exactly a part of LinkedIn profile optimization, but you must know that when you put out content on LinkedIn regularly, you'll get more engagement, and LinkedIn will also help to boost your profile as you're more active on their platform than others.
11. Update your profile regularly
Updating your profile is very important. Make sure that your LinkedIn profile is always up to date with relevant information and professional experiences.
12. Make your profile multilingual
If you're targeting people of some other language other than English, LinkedIn gives you
the option of creating your profile in that language as well.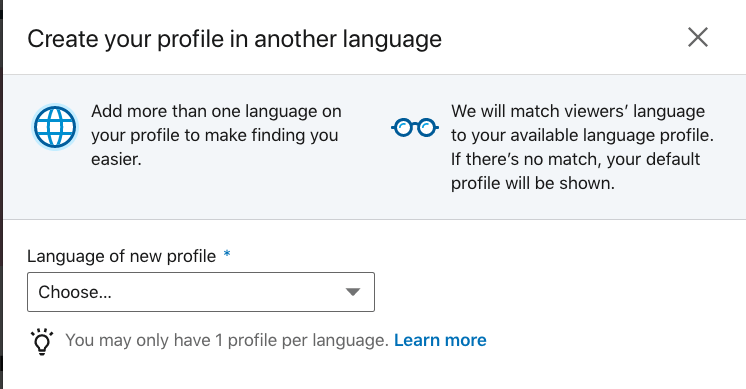 13. Add links to your LinkedIn profile from your website, email signature
LinkedIn is like your resume, but cooler. So, make sure to link to your LinkedIn profile from your website, email signature, and even other social media platforms.
14. Focus on relevance
Remember that your LinkedIn profile is like your personal landing page. Every piece of content on your profile should come together as one and point towards one single goal or CTA.
So, remove irrelevant content or information from your LinkedIn profile which may act like useless distractions to your prospects.
15. Stick to the point
Do not beat around the bush and write essays on your LinkedIn profile. Remember your goal, your target audience, and your CTA. Stick to it all throughout your profile and stay to the point.
16. A/B Test
Again, your LinkedIn profile is like your landing page. So just like you do A/B testing on your landing page and try out different keywords, different stories, featured links, etc.
And you can measure the success of your optimized by looking at some basic metrics like:
Number of profile views
Number of inbound leads/messages
Number of click-throughs to the links that you've added to your profile
LinkedIn engagement on your posts and/or articles
Final thoughts
I'm sure you have understood what you've been missing by not optimizing your LinkedIn profile.
So take the first step today. Start optimizing your LinkedIn profile step-by-step. And you will soon see the results in the form of profile views and inbound leads!