What is a cold email?
A Cold Email would look like a standard email to business recipients – except the receiver knows little to nothing of you.
It's also now a prevalent method of selling products.
How does cold emailing work?

Cold Email was primarily intended for pitching offers to potential customers during the past few years.
Usually, the sender would send a generic message to many prospects without personalization or segmentation.
This technique (personalization & segmentation) has been perfected, and many successful businesses presently implement customization via email.
The more copy-pasted messages entered a prospect's mailbox, the less effective it became, as people became more sensitive to their general approach with cold emails.
Cold emailing can benefit any business immensely, primarily when it comes to lead generation. Here are 3 Practical ways to close Leads with Cold-emailing:
1. Never Forget these 2 "C's": Conversational & Customizable – (All about the Prospect)
The Importance of customization is critical in cold-emailing, once you find the right prospect through LinkedIn or other sources.
You have one foot in the door to your lead – the next is how much you know about your potential prospect and how to use that data for your cold email prospecting.
Prospecting in Cold emails
Cold emails are given the most priority in email campaigns. The Strategy behind Cold email prospecting is to target individuals who are yet to discover your brand.
In essence – you are prospecting potential leads in the first lead generation stage.
Here are some easy tips to keep in mind when addressing prospects via cold email.
Never Hesitate to mention where you found them. E.g., I noticed your blog piece on SaaS Marketing at Reddit.
Draw attention to the Technology they use in the conversation. E.g., "Since you're using Leadconnect for lead generation, I wanted your insight on this."
Sounds like you've investigated every aspect of their company. E.g., "Amazing to see that your latest case studies on your site — love your intuitive approach to lead generation "r first impression.
Some bad examples of Prospecting

There are several ways to get prospecting wrong. For instance, if people open your message and the emails aren't actioned.
That's a Red-light for your opening line for engaging with conceivable prospects.
If you need people to open your emails and get enthusiastic about your deal, you need more than the same old, overused opening lines.
For starters, you can get rid of emphasizing your name in your openings such as:
Hi [Prospect], My Name Is
Do not make the mistake of assuming your prospect cares about who you are in your opening lines.
Because the fact is they care about what you DO FOR THEM.
Also, your cold email recipient already knows who you are (They saw who sent the message in their inbox).
This can sometimes annoy prospects – by repeating something they already know.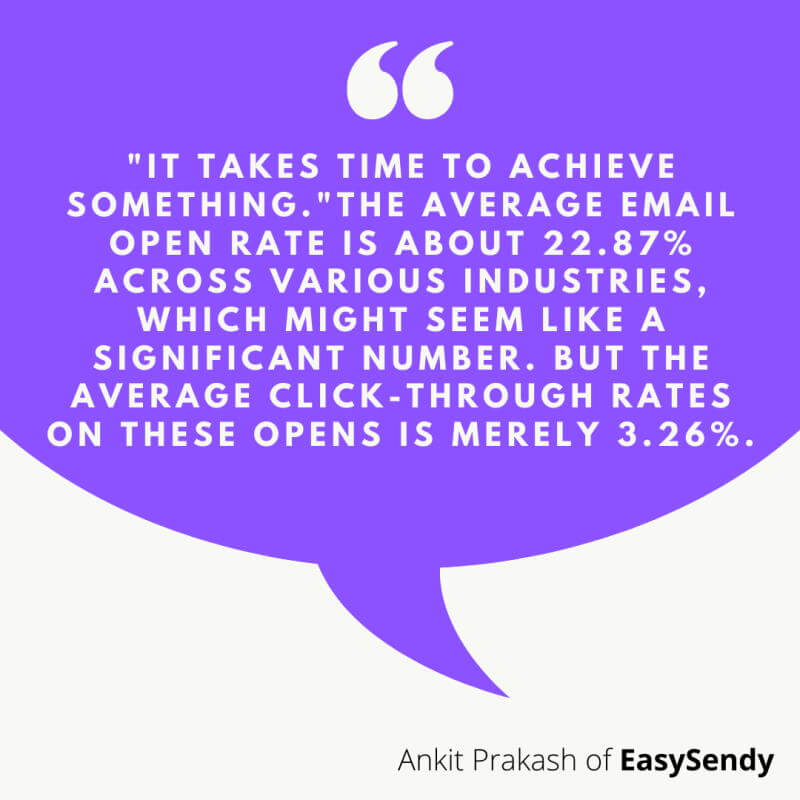 Misleading a Prospect is harmful to your brand.

Let's take an example of what I mean here, how many of you have received emails with pitches such as:
Denise, what If I could promise you 10 secret techniques to be a Millionaire by next month?
Depending on our mood, the Sender might get lucky enough for us to go through their email.
But because of the underhanded approach – we immediately lose interest because we know what's coming.
And, this is not considering if the solution provided could have delivered on its promise (which is rarely).
Instead, stick to the script: Keep alive your brand promises and the value your service/product brings, but do not be conniving.
Think Long-term and focus on Long-term wins, not short-term gains.
2) Easy Steps for Crafting a Cold Email
Time is valuable for your prospect, and a short cold email is generally more helpful than a longer one.
It is easy to lose awareness if you ramble on for too long in an email.
Make sure that each sentence has a goal while staying away from fillers such as "like" or "um."
How do you write an outstanding cold email?
Have great subject lines! Personalization enables people to lessen the chances of blocking you too.
It gives an impressive effect, and There are several methods for doing so:
1) Keep the language 'Prospect-friendly". That is to write from the "you" viewpoint.
The tone should be Less of "I, me, we" and more of "you, your, others, (titles too), etc., as you should make them feel it's all about THEM.
2) Keep the messages focused on the prospects' challenges and problems rather than the product/solution.
3) Keep it as short and to the point as possible
How long should a cold email be?
At least 100 words. Anywhere between 50-150 words are advisable, as brevity is better here.
A study of more than 50 million emails sent by Boomerang shows that the average response is about 30 %. The importance of clarity in email marketing is paramount.
However, a known rule is the more personalized your email, the longer the email can be.
When a prospect is reading about themselves, including a pain point they hate, and a resolution that seems ideal for them, they'll read the whole thing even if it's 200 words.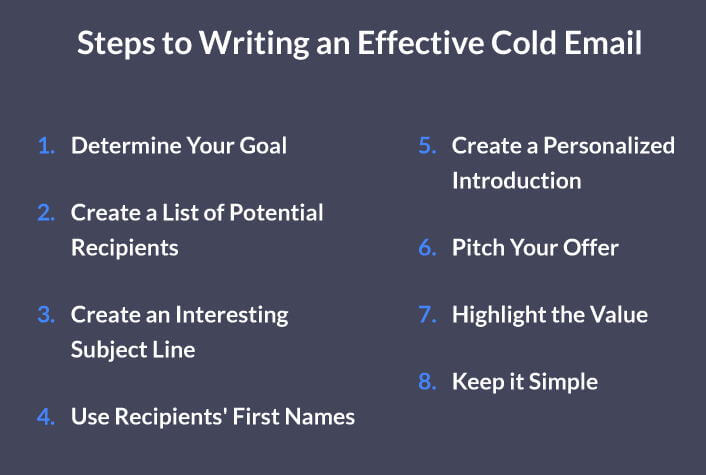 Image Source
Customizing messages is an art, and it should evoke an Interest through:
A pitch evoking Desire, while your CTA should inspire Action.
Rework the email. If it's not something, you believe in it when you read aloud (Put yourself in the prospect's shoes).
Make sure your grammar is correct, as professionalism still matters.
Email the Right Person and send your email to a lead that fits your buyer persona. This increases the likelihood that your messaging resonates with them.
Send It at the Right Time: Most people go through their emails in the morning. Send your cold email early (8-10 am).
This helps you get on the top of your lead's inbox.
While writing effective cold emails tell yourself you are talking to a friend or coworker rather than an enormous audience.
At the same time, keep it brief and friendly.
It's always more helpful if you add an addressee's name and include greetings.
Short, highly personalized cold emails devoted to a precise audience are an excellent way to begin new business relations and get more hot leads for your business.
And if you add a succession of automated follow-ups, you'll get a rather powerful lead generation machine.
3) Don't be afraid to Follow-up your email
Yes, the first cold email is essential.
And a well-crafted email with all the correct elements—personalized, packed with significance, social proofing, a clear CTA — has a big chance for new prospects.
But in most circumstances, your first email may not get a response.
No, it's not the fault of your FIRST cold email, and it's probably the timing when the email was sent.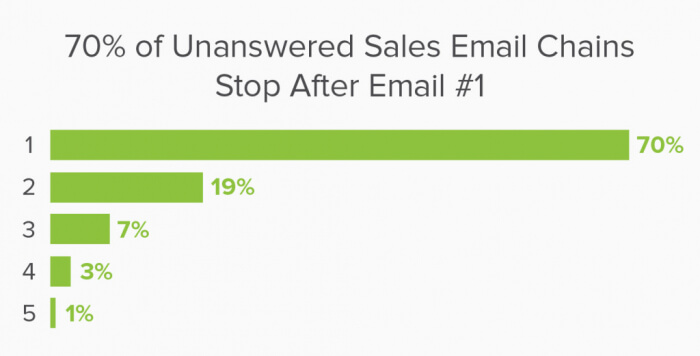 Image Source
Given that every company is changing to work from home, your prospect most likely experiences tons of cold emails each day.
Unfortunately, your email (if sent at the wrong time) is likely to get buried in their inbox.
Never Overdo the Clichés.
There are chances the prospect would have seen the email but was preoccupied with something else that stopped them from taking any action.
Too many lead follow-up emails are downright easy to ignore. Specific phrases have been played out so often that people quickly recognize the automated sounding subject lines and phrasing.
Do not make the mistake of sounding to your prospects like you're reading off of a script.
Why It's Important to stand out from the crowd with follow-up emails, here's how you do it.
Why follow-up emails matter
People who work on follow-up emails think that their opening email is critical in their outbound email campaigns.
While that might be true to an extent, it's not as important as the 2nd, 3rd, 4th, and sometimes 5th email!
Look at your email outreach as an ongoing conversation because studies have shown at least 80% of deals demand at least five touches before closing.
So, when it boils down to, the future to doing business with your prospect is in the follow-up.
And to not feel disappointed if there is no answer from your Best first cold email, you should follow up numerous times.
Easy Instructions for an excellent 3rd follow-up email

When drafting a 3rd follow-up Email for your email campaign, these tips might be convenient:
1) Add value details for the prospect if the first message wasn't straightforward enough
2) Ask the prospect for genuine feedback on your product
3) Ask if you can share a worthwhile idea to grow their small business
4) How your company can support a recent industry/competitor event
Automation helps with Follow-ups:

The number of prospects you would have to cover would help by using a competent tool to send follow-ups automatically.
This will save you time and give you various opportunities to monitor A/B testing as well as other options, which are not possible while sending manually.
Tools like Woodpecker, Snow, Hunter, and more can do just that – schedule follow-ups and give you a laundry list of options for your email strategies.
And once a reply is received, It will stop the sequence.
Don't forget the vital goal of following up is to keep the discussion going by showing genuine interest in their thoughts on a topic or issue.
The best method is to wait 3–4 days between each email to avoid bothering the lead. This resolve shows confidence in yourself, your product, or your service.
Conclusion:

A personalized, pertinent, and effective cold email is a great lead generation strategy to initiate a sales conversation with a probable customer.
To do so, investigate the lead, write an introduction, make a personalized pitch related to their probable pain points.
And Inquire them to take the following steps. Now, follow these tips for your next cold email and increase your lead generation chances.
About the Author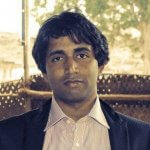 John B. Martyn
John B. Martyn has spent over half a decade working with SaaS-based products. Besides learning new things, one of his many passions is writing. He is currently working with Brightest Minds and helps produce and edit content related to Lead Generation strategies for businesses and much more.