Content is not created just for the sake of it. When it comes to businesses, content serves to make sales, generate leads, or increase engagement. Therefore, content that does not convert is not good.
Consider this, if you had an amazing service or product, wouldn't you want more people to know about it? With 87% of shoppers starting their purchasing journey online, learning how to create a successful content marketing funnel is the key to excelling.
Conversion funnels are a part of the content marketing strategy and determine the customer's journey. Simply said, with a good conversion funnel, you can optimize your content better to convert your leads into sales more easily.
What Is Conversion Funnel?
Let's see together what are the steps to enter the world of LinkedIn for companies in 2022.
Open a corporate LinkedIn Page
To structure an effective web marketing strategy, first, you need to create a company LinkedIn page.
Complete your page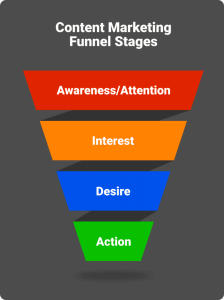 Have you ever wondered how a potential client comes to your website and converts into a customer?  When you try creating as many leads as possible with an easy-to-follow content flow, that is the content marketing funnel. ECommerce marketers have long used this fundamental concept in sales to attract shoppers.
A content conversion marketing funnel explains how the customer is drawn towards your conversion point, such as online purchasing. Customers tend to be afraid of making a purchase on new sites, and it is justified. However, a proper conversion funnel piques their interest and gains their trust before they take the plunge.
Therefore, your job is to smoothly take the client through the conversion funnel to convert them into lifelong customers, followers, or subscribers. A well-planned conversion funnel can make this journey more comfortable for you and your prospects.
How Content Marketing Works
You will require a lot of content to cater to a larger online audience. Some of the common methods involve social media content marketing, blogging, and providing visual content. Even e-books and webinars can be useful tools. It is also crucial to mention that each method will require different content experts to ensure the optimum customer experience.
A comprehensive strategy will tell you about:
The type of content needed
The ability to track the content's performance
The areas which need improvement
You need to know all these to fully understand how the content fits into your customers' journey through the funnel.
The most powerful marketing funnels are actually the simplest ones. Let's take a look at the following scenarios to understand the process better.
Scenario 1
You had been working on your blog posts rigorously and slowly started seeing some traffic. Before you know it, your website starts to get high ranks on Google. Now you most likely want your readers to subscribe to your email list.
Once that is done, you can easily sell them your service or product, also known as conversion. You can even choose to advertise other brand products through affiliate content marketing.
Scenario 2
You are running a podcast ad. Your listeners find it intriguing and start searching for you on the internet. Since you have been posting blogs regularly as well, they automatically find it. And again, just as in scenario 1, you can make conversions, which is selling online.
Scenario 3
Your potential prospects find a social media post by an influencer that shares a link to your landing page. When the viewers visit the page, they learn about your brand and are willing to make a purchase.
All of these are examples of how a conversion funnel is created successfully. Of course, these are just examples, and your particular strategy may not need to be so linear. That is where a powerful and experienced marketing specialist, like WrittenlyHub, can help.
Why Do You Need a Conversion Funnel Strategy?
When it comes to marketing, businesses often prefer methods that deliver instant gratification. For example, it is much easier to get the names and email addresses quickly at a trade show. Another example would be investing in PPC ads, where you get more leads.
Here's the catch, though. You must constantly repeat the process every month and keep investing money if you wish to continue seeing the results. The problem with this type of marketing is that you do not own the property from which the leads are generated.
In contrast, a sound digital marketing strategy helps your business get scalable, cost-effective traffic that drives a constant lead flow. The best part is you reap the benefits of it even after years have passed. For example, a blog post on your website will continue fetching traffic if done correctly. Now even if it draws the same amount of conversion as your PPC, there is no recurring cost.
In short, a great content conversion funnel strategy:
Gets you closer to your goals
Lets you track your progress
Helps you identify new opportunities
Reduces cost
Fully optimizes your marketing team
Assists in creating content that sells
And the results of content marketing become predictable when you understand the conversion funnel well.
Different Stages of Conversion Funnel in Content Marketing
If you want to optimize your conversion funnel fully, it is better to divide them into three stages. Then you can assign goals to each step of the funnel. This is a vital point in the content conversion funnel, as, without it, you will not meet your goals.
The Top of the Funnel (TOFU)
Content marketing is at the top of the funnel since it draws the primary focus of the customer. Everything from making a brand name to spreading brand awareness relies on this stage. Engaging content is the key if you are trying to create a buzz among prospects about your business.
Some examples of this would be:
Blog Posts
E-books
Guides/Infographics
How-to content
The Middle of the Funnel (MOFU)
The middle part of the funnel should be the "convert" and "close" activities. By providing valuable and informative content, you demonstrate the values that your product or service offers to the customer.
Some good examples of this would be:
Whitepapers
Webinars
Downloads
Promotional content
The Bottom of the Funnel (BOFU)
Bottom-the-funnel marketing activities involve everything from email marketing and sales to conversion rate optimization. The purpose of this strategy is to help your customers make the decision you want.
Some good examples of this would be:
Demos and trials
Case studies
Consultations
Customer Stories (Reviews, testimonials)
Events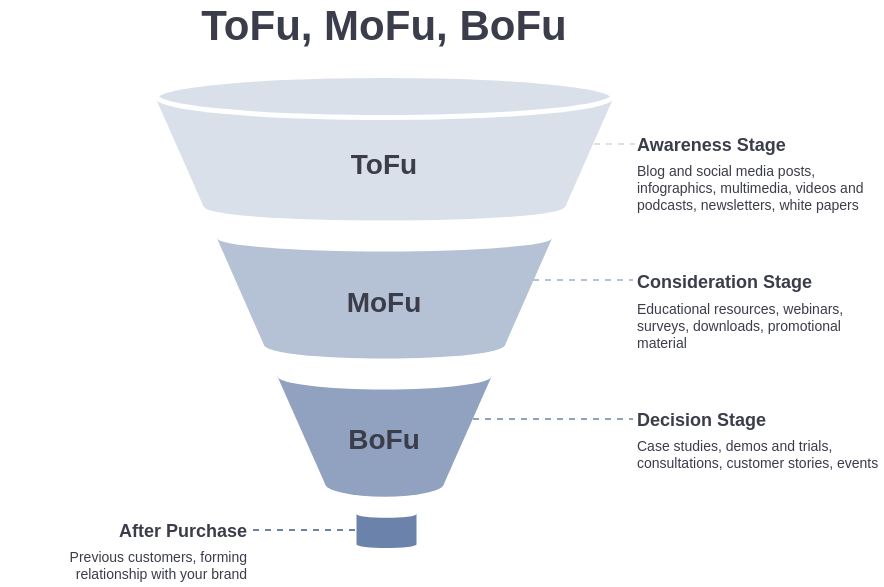 Source: online.visual-paradigm.com
The Art of Retaining Your Customers
In a nutshell, the stages of the marketing funnel are based on the objectives that they serve, which are to:
Did you know that new customer acquisition is 5x more expensive than existing customer retention?
That is why there is also the fourth stage. It is the retaining of your customers so that they keep coming back. Successful businesses do this rigorously to their existing client base.  However, to pull this off, you need to create customer loyalty programs exclusive to your loyal client base only.
Here's how you can do it.
Offer Additional Perks
Adding some extra benefits to your loyal members will make them feel happy about using your products or services. This helps build an emotional bond that results in long-term loyalty. For instance, Amazon Prime offers its customers many benefits, like same-day delivery for free. Other than that, they also organize member-only events and provide scope for extra savings.
Another way to do this is to update your products. When you acknowledge your customers' changing expectations, you show them you appreciate their loyalty. A simple update on an app glitch based on user feedback can also improve the user experience.
Provide Flexible Rewards
A great way to retain customer loyalty is by offering customers rewards with the flexibility to use them whichever way they like. A great example of this would be the Starbucks Rewards program, where members can pay using the Starbucks app.
When customers do this, they earn rewards like free drinks and food. However, by letting you use their app, Starbucks collects data on user behavior that they later use in their marketing tactics.
Deliver Personalized Content
Providing your customers with a high level of personalized content is one of the greatest tools in content marketing. A good example of this would be Spotify, as they provide playlists and emails based on individual listening habits.
In fact, they took the level of personalization a step further by introducing the "Wrapped" campaign. Through this, Spotify provides its listeners a list of their most-listened music through that year in a story mode.
Key Takeaways
Understanding how people flow through the conversion funnel can help you achieve your content marketing goal better. Prioritize adding value to your customers instead of focusing on how you sell. When you emphasize enriching their experience, it increases the possibility of conversion.
Also, once you have successfully driven your customers through the funnel, make sure to invite them for a proper call to action. It could be anything from a simple sign-up invitation to asking them to follow you on social media.
Remember always to add value to your customers, and they will remain loyal. Your existing customers could also introduce new prospects to the top of the funnel, and the process will continue.