As the consumer journey becomes more and more complex every day, the way brands and their marketers generate and nurture leads is also constantly changing.
Of course, generating leads isn't a walk in the park and can be such a painstaking process. According to Hubspot, generating high-quality leads and traffic is the biggest challenge for marketers out there.
That's where LinkedIn lead gen forms came in handy.
It's no secret that LinkedIn has now become a powerful, must-use tool for savvy marketers out there to generate high-quality leads. With its lead gen forms, marketers caneasily collect quality leads that are automatically filled with LinkedIn profile data.
LinkedIn users have two times the buying power of the average web visitors, making it an ideal platform for you to collect leads and convert them into customers. However, simply creating your lead gen forms and expect the magic to happen won't take you anywhere.
You need to understand the know-how to increase your success with LinkedIn lead gen campaigns. Below are some handy ways you can do to create better LinkedIn lead gen forms for better results.
1. Keep It Brief and Sweet
LinkedIn users in general and your prospects, in particular, are busy. Long questions are such a chore for them.
So, it's always better to create lead gen forms that are concise and straightforward.  Avoid giving them a long-winded intro and go straight to the forms instead.
That's being said, don't be afraid to make your easy-to answer custom questions. It's essential because your brand needs the leads' information beyond the LinkedIn profiles.
However, make sure you only include the most crucial information that your brand needs to collect for leads. Cut out any that aren't necessary as lead gen forms with fewer questions tend to have a higher completion rate.
2. Include Visual Contents
Plain text in your LinkedIn lead gen forms won't cut it anymore. LinkedIn users are gravitating more and more towards visual content. Do you remember that 65% of people are visual learners? So, it's essential to add a powerful image or video.
For images, you can use sharp and poppy colors to make the form stand out on a member's feed. Don't forget to show an image of the product or service you're asking the prospect to sign up for.
On the other hand, for videos, you can add a short yet fruitful type of video like explainer videos to increase engagement and make the forms a distinct and unique appearance.
3. Use a Friendly Tone
You can build a more personal connection with your prospects by using a casual, pressure-free, and friendly tone. This tone makes the prospects feel like they're getting to know your brand, bringing with it a sense of trust and familiarity.
In other words, it helps them to be more comfortable in interacting with your forms and should have no problem completing it.
A friendly tone also helps the prospects to understand your questions much better. So, just be sure to tailor the tone to your target demographic.
4. Develop a Strong Offer
Don't make the LinkedIn lead gen forms all about your brand unless you want to make your campaigns fall flat. The most important thing here is actually the value of what prospects stand to receive from completing your forms.
Your LinkedIn prospects are smart; they won't simply share their information with you for nothing. Therefore, always be super clear about the value prospects are going to get when they sign up for what they are offering.
In this case, highlighting the benefits of the forms won't only give the prospects a reason to answer your questions but also convince them to share the forms with others.
5. Narrow Down the Niche Using Demographic Data
The beauty of LinkedIn lead gen forms is that it provides you with detailed demographic data about your campaigns. It allows you to understand the number of impressions, open rates, completion rates, and the number of total leads.
From this demographic data, you'll get more insights into what content works best for your target prospects.
It helps you to appeal more to the prospects who actually care about your firm and what you offer. This, in turn, will lead you to optimize your lead gen forms much more effectively.
6. Don't Shy Away Following Up with Leads
Once prospects submit their information, you need to guide them through the next step. What do they need to do after that? How do you let them know that they've successfully submitted their information to you?
That's why you need to follow them up in a timely manner.
The key here is to keep the interaction and momentum going. Include more details like how and when you'll contact them further in your thank you or confirmation message.
Not to mention that when you add a clear CTA to more valuable content, they're also more likely to engage with you even after they complete the form because they want more and more benefits.
7. Test, Test, and Test Again!
Last but definitely not least: make sure your LinkedIn lead gen forms work properly. A constant A/B testing helps you see what's working (and what's not) and establish proof of concept. It's safe to say that testing a key to your LinkedIn lead gen campaigns success.
Consider using different combinations of questions or CTAs and see which ones get the best response. Adjust them until you're happy with the forms.
Besides the A/B testing, LinkedIn also makes it easier for you to send a test lead through once you've set up a CRM integration. You certainly don't want to discover an error after live leads start flowing through, do you?
Wrapping It All Up
LinkedIn lead gen forms won't only help you generate high-quality leads at scale but also help you access and manage the leads with ease. So, it should come as no surprise if many savvy marketers utilize the lead gen forms feature on the platform to prove the ROI of their lead gen campaigns.
With those best practices mentioned above, you can now spice up your LinkedIn lead gen forms and collect more leads effortlessly.
Author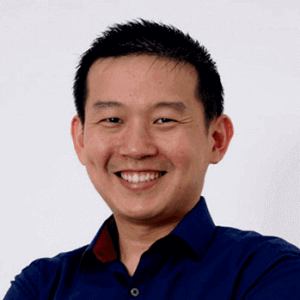 Andre Oentoro is the founder of Breadnbeyond, an award-winning explainer video company. He helps businesses increase conversion rates, close more sales, and get positive ROI from explainer videos (in that order).