Professionals widely use LinkedIn to connect with colleagues, demonstrate their knowledge, and look into new employment chances. Skill endorsement, one of the platform's frequently underused features, may significantly improve your online visibility and build your reputation in your sector. Then your LinkedIn outreach campaigns through Automation Platform like LeadConnect becomes more effective.
Understanding LinkedIn Endorsements
LinkedIn endorsements are a simple yet effective way for your connections to vouch for your skills and expertise. When you get endorsements on LinkedIn, they affirm that you possess the abilities listed on your profile. These endorsements are usually related to specific skills that allow others to recognize and validate your professional strengths.
The Importance of LinkedIn Endorsements
Credibility and Trust
Skills and endorsements serve as social proof of your capabilities. When potential employers or business partners see skill assessments, endorsements, or recommendations on your profile, it can boost their confidence in your abilities. Endorsements help establish your credibility and present you as a more attractive candidate or collaborator.
Enhanced Visibility
The more endorsements you receive, the more likely your profile is to appear in search results. LinkedIn's algorithms often favor profiles with higher endorsements, increasing your visibility to recruiters and peers. Hence you can start to ask for endorsements on LinkedIn from 1st-degree connections.
Networking Opportunities
When you receive endorsements, it can lead to more meaningful connections. People who endorse you are more likely to engage with your content, share opportunities, or even introduce you to their network. In many cases, when you endorse other people, they'll return the favor and endorse you on LinkedIn as well. If you can endorse one another, it will help you to develop a long-term relationship with them.
How to Give endorsements on LinkedIn?
LinkedIn endorsements serve as proof from people you know that confirms the skills you have listed on your profile. After updating your skills on your profile, others can select the "Endorse" option and start endorsing your skills on LinkedIn. When a specific skill receives more than 99 endorsements, it enhances your credibility. Once someone endorses a skill you have listed on your LinkedIn profile, their name and profile picture are displayed as an indication of their endorsement. This straightforward process boosts your profile's legitimacy and demonstrates that you are an authentic user.
Let's see how you can start giving endorsements on LinkedIn.
After you have successfully logged in to your LinkedIn account, navigate to the "My Network" tab located at the top of your homepage.
Once there, click on "Connections" to start choosing the individuals in your network that you want to endorse.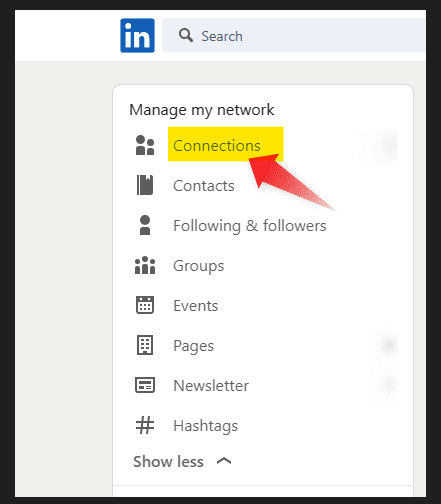 Alternatively, you can manually type in the names of those individuals.
Proceed to their "Skills" section to view all the skills they have listed.
Simply click on the "Endorse" button to provide them with an endorsement.
It really is as easy as a few clicks, and by following these steps, you will have successfully endorsed someone. Remember, endorsements can help validate someone's skills and expertise and are appreciated by professionals looking to build credibility on their profiles.
Making the Most of LinkedIn Endorsements
Now that we understand the importance of LinkedIn endorsements, let's explore some strategies to maximize their impact:
Accurate Skill Selection
Once you create a LinkedIn profile, ensure that the particular skills you possess and want people to endorse are listed in the skills section of your profile and accurately represent your expertise. You can list up to 50 skills. This helps your connections endorse skills that truly reflect your skills and strengths.
Reciprocity
If you want to start getting endorsements for your skills, don't hesitate to endorse someone on LinkedIn for skills you can genuinely vouch for.  Here's how to endorse someone. Just scroll down to their skills and select the skill you want to endorse. That can compel your connections to come to your profile and endorse your skills as well.
Engage with Your Network
You can stay active on LinkedIn by posting intelligent information, participating in debates, and interacting with individuals in your sector. The more engaged you are, the more probable it is that people in your network will recommend your abilities on LinkedIn.
Express Gratitude
Once you get an endorsement, take a moment to thank them. This shows your appreciation and encourages further engagement with your connections through LeadConnect, the LinkedIn Outreach Automation Platform
Request Endorsements
You can start requesting a recommendation on LinkedIn from your colleagues, supervisors, or mentors. Don't keep sending generic messages. Personalized requests are often more successful, as they can speak to specific experiences working with you. However, ensure your request doesn't come off as begging.
Conclusion
LinkedIn endorsements add to your credibility in the digital world. Thus, your endorsements section can become a valuable tool for enhancing your professional profile. By actively managing your endorsements and engaging with your network, you can leverage this feature to open doors to new career opportunities and build lasting professional relationships. So, take a moment today to review your LinkedIn profile, ensure it accurately reflects your skills, and start making the most of endorsements to highlight your top skills.