Lead generation is your first task as a marketer that can win your business successful sales. The more qualified prospects you generate, the higher your sales will be accordingly. Turning strangers into customers using brilliant global marketing strategies seems to be a difficult task today when there are a lot of competitors. Here we let you explore the pro tips to attract prospects that suit your business best.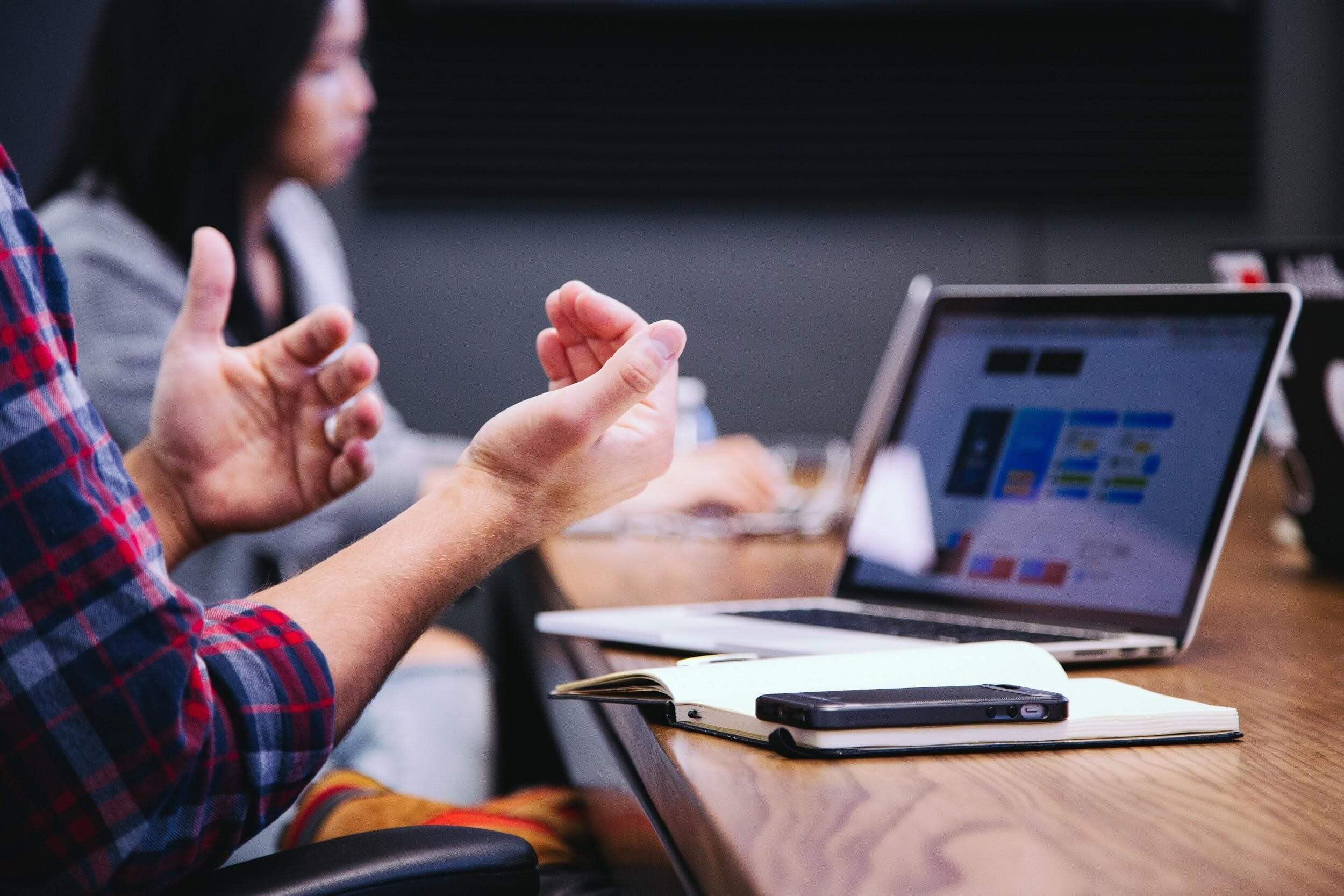 Table of Contents
Why Lead Generation is Essential
Lesser-Known Ways to Generate Leads
Lead Generation in Different Industries
Generate More Leads for Your Business
Content Marketing on Your Platforms
2. Cross-Promote Yourself on Social Media
5. Enhance Your Public Relations
6. Do Not Underestimate Reviews
Why Lead Generation is Essential for Your Sales Growth?
The number of leads you generate directly affects the number of sales in your corporation. Therefore, the survival of your business in the market depends heavily on your efforts for attracting prospects. You should have an advantage over your competitors and focus on that innovatively in all your activities.
To target qualified leads, you should have a comprehensive yet detailed knowledge of your prospects. You should do research on your prospects' interests, needs, behaviors, demographics, etc. Using the information, you can set much more effective strategies for generating leads.
What Are Some of the Lesser-Known Ways to Generate Leads?
Lead generation is the first and foremost step in the conversion funnel where your brand image is perfectly established. But it might have happened to you that your marketing strategies do not work for different reasons. In such critical moments, you should pepper your strategies with creativity. 
Among the inbound and outbound marketing strategies you can carry out, content marketing strategy stands out since its ROI is fabulously efficient. Moreover, creativity in content is much simpler to conduct if you have a competent content team. Here are three of the lesser-known ways to generate leads using creative content:
1. Record Podcasts
Choose the best of your professional clients and interview them in a podcast. The advantage of an interview-centered podcast is that you can both showcase the client's satisfaction on the one hand, and attract new leads on the other. Branded podcasts are highly potential in generating leads as they ensure the trust in the listeners. 
A digital booklet can be an eBook, guide, report, etc. However, the rule of thumb in creating a lead magnet like digital booklets need to be remarkably captivating. Adding images, graphs, diagrams, infographics, as well as interactive textual content. These elements help encourage your leads to interact and engage with your booklet.
3. Write Guest Posts
Find and collaborate with other B2B businesses in your niche. Contact them to see if they accept guest posts on their websites and then share some of your content with them. Then, add some backlinks and grow the number of your website visitors. In addition to generating leads, you can expect more conversion as you add value and credit to your website by writing guest posts.
How Do Different Industries Use Lead Generation?
Lead generation in different industries can differ regarding the requirements of that industry. Generating qualified leads needs industries to apply different marketing strategies based on the preferences of the prospects. Here we will consider some of the industries and the strategies they use for generating leads:
1. Retail Shops
Visual marketing is the key point for those who run a retail store as they have to attract the attention of their audience. Those active in such an industry should put high-resolution photos of their products on display, emphasizing the most recent or the bestselling ones. 
Freelancers should first of all be as updated as possible with the changes in the industry. They can consistently check the latest trends on social media and keep their own social media in the same direction with the new changes. They can also build up a website to showcase their portfolio, for instance, if they are writers, painters, photographers, etc.
Online marketing is the solution for e-commerce lead generation though it is highly competitive and requires persistence. Focusing on online platforms to apply online marketing strategies and interact with the audience is the rule of success in an e-commerce business.
4. Restaurants
Social media marketing provides great opportunities for those active in the food industry such as restaurants, bars, cafes, etc. Social media has an unbeatable power as it is mostly image-centered and can leave visual effects on the audience. People spend a lot of time on social media during the day so there are already many leads waiting for an action to take.
5. Realtors
Networking works best for realtors both through a website or social media. In addition to online marketing, they can also focus on traditional physical marketing by directly communicating with their clients.
6. Travel Agencies
Travel agencies are lucky since almost everyone loves traveling and goes for fascinating offers. These agencies can lead to generation and grow their sales by focusing on content marketing. Writing about different places, cultures, tastes, tips, hotels, etc. is already a large area to target as a content marketing topic. Adding high-resolution photos and videos can double the effect additionally.
7. Education Organizations
Using content marketing, webinars, and events can show others that such organizations have enough expertise. Therefore, they trust them and convert confidently. Podcasts are a great content marketing category that can deeply influence the audience and attract them as leads.
This makes you stand out from the rest of your competition and allows you to "show" people who you are, instead of "telling" them in your summary. Use this space wisely, it's a sandbox where you can experiment and drive conversions from.
How to Generate More Leads for Your Business?
So, let's focus now on the core of the article. First, look at the infographic and then read the pro tips to know how you can generate more leads for your business.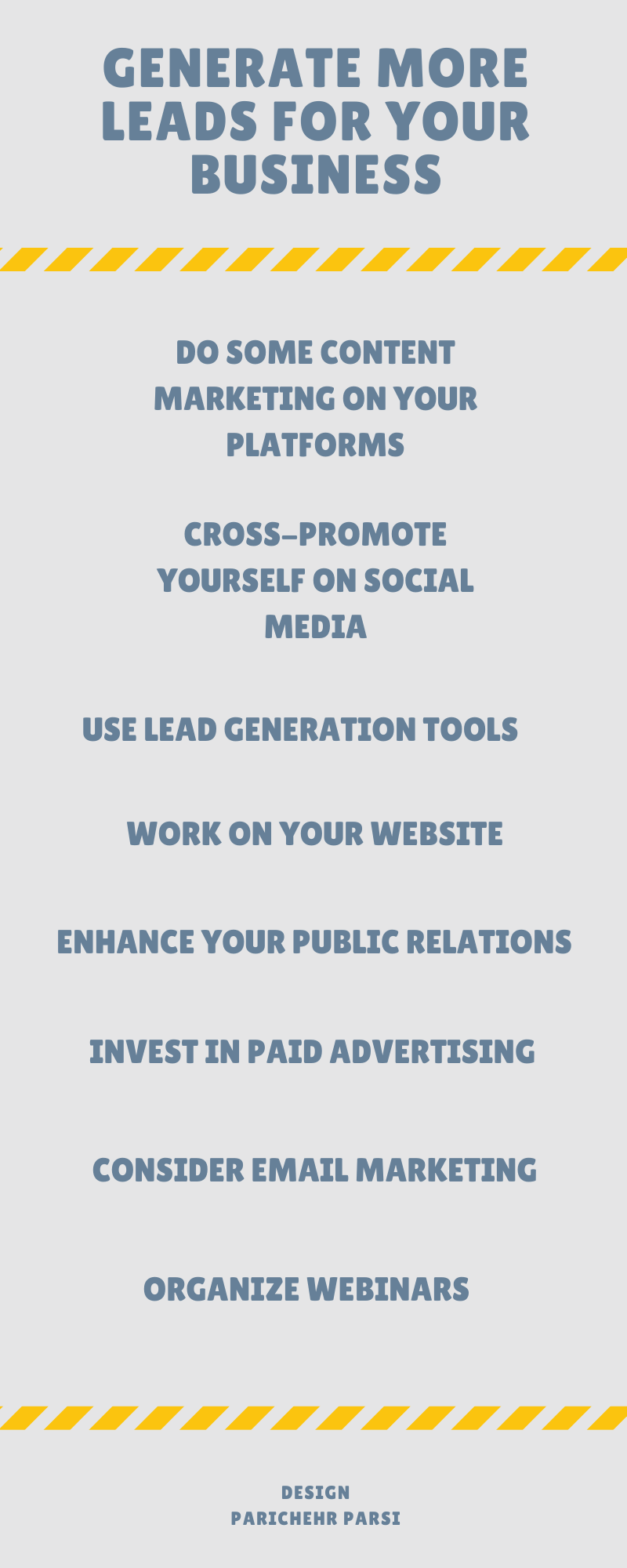 1. Do Some Content Marketing on Your Platforms
Creativity matters greatly. The innovative visual and textual content make an attractive image for your brand. Content is the means by which you communicate with your audience. You grow your online presence, establish your brand image, create trust, and make your business authority by the use of creative lead-generating content. Such content helps you gather new leads that are likely to stay with your business.
However, being creative is not enough. You should have some SEO knowledge and grow your source of content with updated SEO strategies. Therefore, you can appear in the search results above others on your desired search engine. As a result, when your potential prospect is searching for a topic, your content will be available within less than a second. This is also a credit for your business as a professional corporation.
2. Cross-Promote Yourself on Social Media
Resorting only to your website in the digital world is a great loss for your revenues. Social media marketing is very useful in 2022 and for the coming times too. There are billions of people out there on different social media platforms. Accordingly, the percentage of the probability of finding your qualified leads on social media is remarkably high.
Facebook, Instagram, LinkedIn, Twitter, etc. each have their own characteristics and audiences. As a result, not every social media can be suitable for your business and niche. You should then first recognize these characteristics and then start promoting your business and attract leads. Consequently, your audience moves from platform to platform and you can enjoy an increase in the number of your followers. If Instagram is your preferable media, you can also use Instagram follower apps to grow your followers.
While working with social media, remember to stay loyal to three features: consistency, experimentation, and automation. Without adding these to your work, you cannot promote yourself successfully on your desired social media. Therefore, there will be no leads and no results. 
3. Use Lead Generation Tools
Using tools for lead generation can influence your ROI positively. These tools help you use the maximum potential of the expenditure and convert people or businesses that are relevant to your business.
Tools such as website visitor tracking software assist you to have a broader level of knowledge about the activities a user does on your website. Analyzing the achieved data can tell you about the necessary steps you should take to keep the leads within your website. There are data analysis tools that you can use. You can track the number of visitors, the pages that have been visited, the time spent on each page, etc.
4. Work on Your Website
Even if you are making a lot of marketing efforts to generate more leads for your business, all are condemned to failure without a high-performance website. Why? Because you get your prospects lost in the complexities of your website.
Choose a template that is easy to follow, engaging, and simple. Such a website surely has a better user experience as users will not find it difficult to explore through your website. Remember to add some sections such as customer testimonials, case studies, reviews, etc. to inspire the new leads and gain their trust.
Moreover, provide contacting means such as online Chat-Box, contact form, and contact information. In addition, there are things you can add to prevent your leads from exiting your website. For instance, welcome mat, exit-intent popup, and the like. The last point would be the fact that you should always perform A/B testing to see if everything is working properly on your website. 
5. Enhance Your Public Relations
Constructing bridges of communication is important for your business. Such bridges can be social media, events, websites, etc. Communicating with your leads and facilitating connections can result in them being loyal to the conversion funnel. It is also important that you create a sales funnel for B2B lead generation.
In addition, getting other bodies to talk about you is a great credit for your business which gains their trust. You can invest your budget on top B2B influencers, influencers on social media, or professionals on online platforms instead of spending so much on advertisements. Such replacement is much easier to believe in the viewpoint of your generated leads.
6. Do Not Underestimate Reviews
Reviews have been more determinative to businesses lately. There are many people who prefer to search for reviews before taking any actions toward a business. If there are no reviews, or worse, there are negative reviews, they will turn their back to the business. In fact, such behavior is not confined to some industries only. Rather, the consumers and clients of almost all industries and niches follow the same pattern.
7. Invest in Paid Advertising
Both social media and search engines provide paid advertising opportunities for businesses. They are powerful in terms of the data these platforms possess about their users. For instance, you can choose a target audience for your paid ad. In other words, you can ask these platforms to show your ad to the 30 to 40-year-old mothers in London who love shopping. So, you specifically opt for a particular group of leads.
On the other hand, a good feature of paid advertising is that you can select the amount of payment regarding your budget. Hence, if you have a small business with a restricted budget, you can still consider paid advertising.
8. Consider Email Marketing
On the way to build up communication with your leads, both B2B and B2C prospects, email marketing is a professional way to think of. Asking your generated leads to subscribe to your newsletter is a good way to stay connected with them.
In addition, create a list of the email addresses of the businesses that you think can be proper clients for you and send emails to them. Make them know you and introduce clearly what you actually do. You can also use email automation for following up on the emails that you have not received a reply back.
9. Organize Webinars
Webinars are a branch of video marketing as you may know that make direct communications possible and interesting. Webinars can have various subjects. They can contain information on your products or services, troubleshooting solutions, Q&A sessions, customer interviews, etc. Choose among the best webinar platforms for your business and start the work.
Inform your customers and the generated leads about your webinars. Share the information in all your channels in the digital world. Keep track of the time of your webinars to prevent them from being boring. Prepare for the probable questions you might be asked. You can also think about gamification to add fun and excitement to your webinars so that the participants are engaged.
Conclusion
As a marketer, there are many strategic ways you can learn to generate leads for your business. Remember to use them after having done enough research and after having created your ideal buyer persona. Wish you the best of luck!
About the Author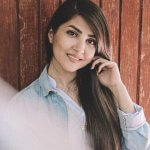 Parichehr Parsi
I am Parichehr Parsi, a born writer, and a freelance copywriter in the fields of travel, fashion, and Instagram marketing. I currently write for AiGrow and online magazines in Italy and I love reading, writing, and researching. Find me on LinkedIn!